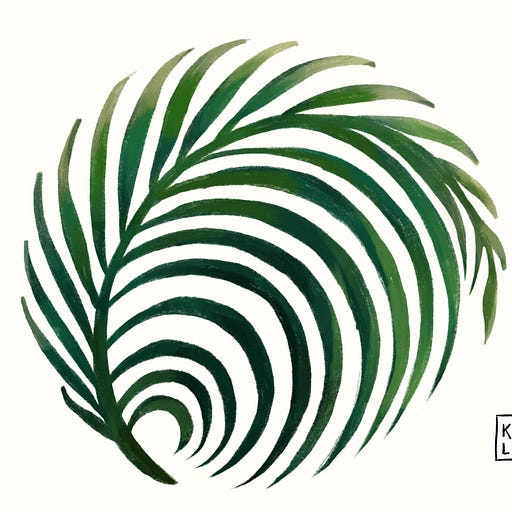 Jul 25, 2021 • 5M
Design your serendipity strategy
Plan Your Next #70
I'm Nate Kadlac, designer of Plan Your Next. A weekly newsletter that connects design, creativity, and how you prepare for your next thing.
👋 Hello! I'm Nate Kadlac, and this is #70 of Plan Your Next. A Sunday newsletter that connects design, creativity, and how you prepare for your next thing.
Welcome to all 430 of you, and special thanks to Lyle for the donation to the "Feed Alie Fund" fund last week. She was fed!
What's new this week?
🎤 Episode #21 / It's Gotta Be The Mic: Reza and I sat down with Lyle McKeany to talk about memoirs, messiness, and the meandering path to finding your writing voice.
🙏 This thank you thread was written to show appreciation to designers who write. I've mentioned this before, but it's important to support those who have helped you, even if you're dust to their broken-in sofa.
📖 Currently reading Essentialism by Greg McKeown. My favorite takeaway is on the paradox that focused people—Essentialists—tend to explore more because they look to be inspired. "One paradox of Essentialism is that Essentialists actually explore more options than their Nonessentialist counterparts."
🎨 I am presenting to Khe Hy's community—filled with writers, engineers, project managers, entrepreneurs, and more—on how to choose a color palette based on your own visual style. My mission with Approachable Design is not to create more designers, but to give space for non-designers to embrace their full creative selves.
---
Good morning from Los Angeles!
I grew up as an incredibly artistic kid, but once I graduated high school, I didn't have a firm grip on how I was going to apply my loose skills to the "real" world.
My dad was also a very creative person, spanning artistic mediums with ease. Frosting wedding cakes for friends, painting murals for events, sculpting statues cast in bronze, handwriting causal notes using calligraphy, and painting Ukrainian Easter eggs were part of his repertoire. These skills were applied at most, as a hobby.
If I had to slice up my dad's personality based on the business book, "The E-Myth," he was close to a mix of 90% technician, 10% entrepreneurial, and 0% manager.
As defined in the book, a technician is someone who sees no connection to where his business is going and where it is now. When thinking about how to let your craft blossom into a profitable business, you must have a better balance between the three identities. At 17, I was looking at art and design through the same lens as my dad. Art for art's sake.
When I first started college, I enjoyed photography and design, but my opportunities seemed limited to portrait photography, wedding photography, and graphic design. I randomly chose architecture as my major, because it felt artistic and had a more formal structure to its career path. But, my heart wasn't in it.
Thankfully I started to get curious and began to ask questions outside of school and family about what might be possible in these fields, which led me to quit school and teach myself design.
Writing as a serendipity strategy
Before this past Tuesday, the last time I visited my hometown was 18 months ago. I was in the middle of my own career, headed in a straight line, concerned about my own future. Being more entrepreneurial and technician than my dad at this point, I've found myself designing my own paths at various points.
But seven years into my recent role, I had lost sight of my own identity. I wasn't sure exactly where I was being led, because I was just a passenger in my own car. Even if I found myself in the driver's seat, where would I go? Like a muscle, your network tends to atrophy if you're not actively working out. I would bounce between what I thought I should be doing and what other designers were doing.
One thing I knew with certainty: becoming a better designer or manager wasn't going to have much impact on others, let alone myself. It wasn't until I started to get curious through writing and this newsletter, which provided me a new lens into viewing the world.
My own path wasn't clear until I veered off to explore adjacent areas of design.
"People who maximize serendipity balance the humility of not knowing where their next big break will come from with the arrogance of knowing that it will come from somewhere." —David Perell
David describes a number of ways to cultivate your serendipity, which may open up new doors you never thought were possible.
This exploration started my 18-month journey to rediscovering myself and my impact through writing. I certainly don't have all the answers, but writing has opened unexpected doors by maximizing serendipity into my own next thing.
If you're feeling stuck in your career with no creative opportunities in sight, just start writing. I'd recommend building out your writing habit by starting with Julia Cameron's morning pages strategy.
---
⚡️ Inspiration for 
next
 week
What Maggie performed relates closely to discovering your visual style. You can't just see what's popular and adopt those same techniques. You have to be willing to explore and find what's unique to you. H/T Stew Fortier
"You have to be willing to use elements that are not necessarily popular. You have to be willing to play music or have music in your songs, that doesn't sound popular." —Pharrell Williams
💡 A tip to building your personal brand inside your company
While this can seem intimidating, I love the idea of crafting a newsletter specific to your own company.
While the end result doesn't look that interesting to me, I love the thoughtfulness involved in choosing every item for it.
---
👋 See you next Sunday
If you've forgotten who I am, here's a little bit about me. As always, my calendar is open to chat about your next adventure, crazy idea, or if you're feeling creatively stuck.
Have a great week,
Twitter: @kadlac
Web: kadlac.com
Workshop: approachabledesign.co