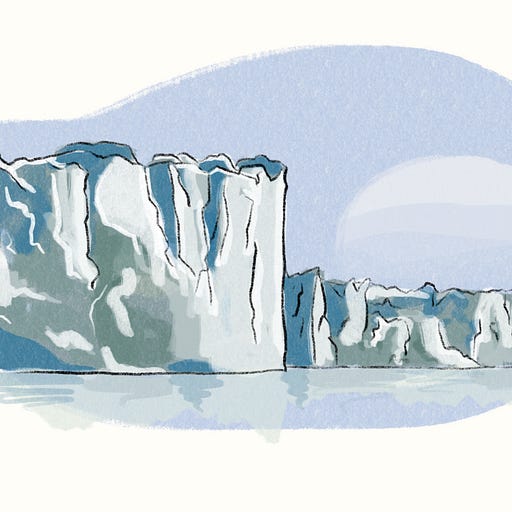 Feb 20, 2022 • 5M
How sketching will make your next trip the most memorable
Plan Your Next #96
I'm Nate Kadlac, designer of Plan Your Next. A weekly newsletter that connects design, creativity, and how you prepare for your next thing.
👋 Good morning from the Upper Haight of San Francisco! I'm Nate Kadlac, and this is #96 of Plan Your Next. A Sunday newsletter that connects design, creativity, and how you prepare for your next thing.
Welcome to the 36+ new subscribers here this past week. Every Sunday, I aim to make this newsletter as classic as Larry David's take on crypto.
---
💡 What's new?
✏️ I published a guest post, The Courage To Not Give Unsolicited Advice for my friend Charlie Bleecker's newsletter. It's how giving unsolicited advice is a waste of time, and it takes from Alfred Adler's principles found in the book, The Courage To Be Disliked.
👨‍💻 Course giveaway: Late last year, I took a course called A Portfolio of Small Bets by Daniel Vassallo. It gave me momentum in continuing a few of my own small projects, and the smart people in his community are worth it alone. I have one FREE course membership to give away. If you're interested in joining an upcoming cohort for free, just respond to this email with what your next small bet would be. I'll pick one person who replies to give it to!
🎨 I'm truly thankful for the feedback I received from my last newsletter on learning to draw. If you do end up creating illustrations by remixing and copying, please share them! I've already witnessed a couple. I also published a concise version on my own site if you want to save it for later.
When I first started this newsletter, I was going to write about the trips I've taken because I had no idea what to write about.
When you're starting out without any writing experience, you'll almost always want to share every detail, from start to finish. Little did I know this was possibly the worst way to tell a story. But, the thought of leaving details out from an entire two-week trip felt unnatural, like leaving socks on while having sex.
I was so new to writing, I hadn't yet read Matthew Dicks' book, Storyworthy. In it, I would learn his first rule about travel stories:
"No one wants to hear about your vacation."
I think that's mostly true, but maybe it's because most people are bad at telling travel stories? Thankfully, Matthew does include a second rule: "If someone asks to hear about your vacation, they are being polite. See rule #1."
So here I am not telling you about my second trip to Argentina in 2018, but instead, how to experience your next trip in a new way.
I used to think that using a tour guide was cheating. I also thought most guides hated their jobs. My experiences had been limited to mostly bad Seattle Underground Tours where unenthused comedians mocked the tour itself by masking their disgust through gritted teeth.
It wasn't until a trip to Paris when my in-laws hired a legit pro to take us through three of the most popular museums that you probably know. I walked away from that tour realizing how much more connected I felt to the art I was seeing. I saw it through their eyes but felt it with my body. I never applied the common phrase I use when finding design help, "You get what you pay for," to tour guides.
So, in 2018 I went to Argentina with my wife's family. Instead of a tour guide, I found a local art teacher who held private walking tours, but for drawing. He taught simple one and two-point perspective drawing, which anyone can do with a small ruler and a pencil.
More important than the simplicity of drawing this way, you are connecting to a location in a way most people never try.
In many cases, the first memories I recall from a trip I've taken is the food I've eaten. When I was in Japan, it was slurping down a bowl of ramen elbow to elbow in a cramped restaurant in Tokyo, or biking to a vineyard just outside of Mendoza City to drink wine while eating steak from a cow grazing on some of the best soil in the world.
All of our senses are being triggered when eating, so it's not a secret these memories are at the tip of our memory banks, sealed safely like a cold wallet holding Bitcoin in a fire safe.
Sitting outside to draw a scene connects our senses in similar ways. We use four of the five while drawing. And if you have a handy sandwich nearby, you can take advantage of taste, just for kicks.
What's underrated is the connection we have to a place by creating something. Drawing forces us to process information in multiple ways: visually, kinesthetically, and semantically. It's superior to reading or writing because of this visual trifecta.
We're also connecting to a location intimately as you might experience by walking instead of driving.
Our guide walked us to a few different locations. We spent about 30 minutes at each building, while he taught us the basics and encouraged us to work fast.
Instead of focusing on perfection, he wanted us to see the simplicity of the process so we could quickly apply this even if we were sitting on a bench with just 5 minutes to spare.
Even if the sketches weren't capturing every detail, my memories of the moment were being absorbed by the paper. Like a delicious meal, I can easily recall the pillow-like grass we were sitting in, the differences between high and low relief construction, or how the flush glass seemingly dissolved into steel.
Drawing doesn't need to be complicated. It can be fun just to sit in the middle of an intersection, quickly drawing the pillars of a museum in a 2-point perspective.
It's a simple mental hack for recalling details of your trip in the same way you'll remember sitting at that small cafe on your first night, enjoying a malbec with a grass-fed steak with loved ones.
It might even be the first memory you recall when describing your start-to-finish vacation story.
Unless you also happen to see a glacier on that same trip.
Nothing beats a fucking glacier.
⚡️ Two creative hits for 
next
 week
📸 Free design elements for your projects
CSA Images has provided some incredibly high-quality design assets for free on their website. I remember using this site as a young designer

🏡 Designing a 100-year old home in Accra
I absolutely love these long-form, well-organized posts on building something. It makes me want to create one for my current bike-building project. What I enjoyed most was the design brief Emmanuel put together for their home at the outset. (Plus, the design of this site is beautiful. Simple design decisions ftw)
---
👋 See you next Sunday
If you've forgotten who I am, here's a little bit about me. As always, my calendar is open to chat about your next adventure, crazy idea, or if you're feeling creatively stuck.
Have a great week,
p.s. If you enjoyed this letter, would you please let me know by tapping on the heart below?