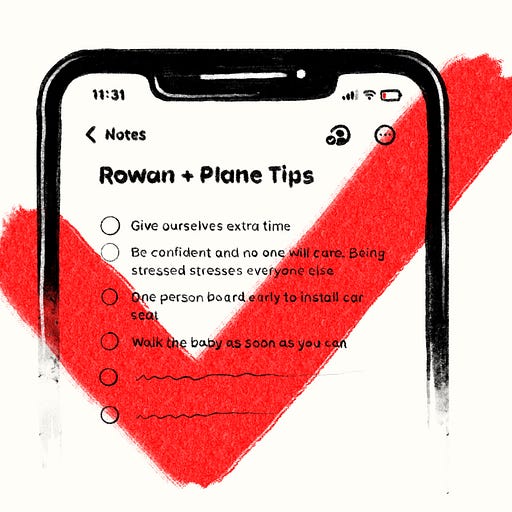 Mar 6, 2022 • 5M
Learning to let go of the art of travel
Plan Your Next #98
I'm Nate Kadlac, designer of Plan Your Next. A weekly newsletter that connects design, creativity, and how you prepare for your next thing.
👋 Good morning from Mequon, Wisconsin! I'm Nate Kadlac, and this is #98 of Plan Your Next. A Sunday newsletter that connects design, creativity, and how you prepare for your next thing.
Congrats to Jacob who won the giveaway for the Portfolio of Small Bets course with Daniel Vassallo! Thanks to everyone who submitted their own project ideas. Please reach out if you want to chat more about them. (see the end of the newsletter)
:: If you're listening to the audio version, I'm sitting next to a fire crackling against my cold AirPods. These don't mix well ::
---
💡 What's new?
🎨 Approachable Design 5 is open! This design workshop helps you discover your own unique aesthetic, which will help you to make better design decisions for your business or brand. Never again look at Pinterest to be inspired. You'll build a design kit over the course of (2) 4-hour sessions on March 19-20. Learn more here.
👨‍💻 Slide Decks with Style video course: Have you wanted better creative control over your slide decks? It's filled with tutorials on how to use Figma to build out your decks. Figma is a free design tool that I think all creators and entrepreneurs should have in their repertoire.
---
It's Thursday morning and I'm rushing to load up my backpack for an impromptu trip to Wisconsin. 
But this trip is different.
There's a family emergency. We booked plane tickets as quickly as we could think. And we're taking our ten-month-old daughter on her first plane ride. 
Personally, I love to fly. The art of travel involves paying attention to details, like preparing to paint a landscape. When preparing to paint, there's dedicated research to choosing what to paint, how to paint, and researching details of the subject beforehand. In planning a trip, I love to think about the details of packing, like planning the exact combination of clothes to fit my 45L backpack. No more, no less. I'm a roller, not a folder. 
Checked luggage? Checking luggage is for chumps. Define the packed boundaries, then paint between the lines.
It's all pretty practical until you have a kid. We had originally planned for Rowan's first flight to be New York in April. Like an experienced pilot using a checklist to minimize their errors, I used a checklist to organize all the things we should think about, both mentally and physically. Twitter threads were searched and friends were asked. 
But that plan was thrown out the window on Tuesday night and we quickly booked a Southwest flight headed northeast, trying to remind ourselves this is a moment we have been anticipating before she was born. 
As I quickly jammed clothes into my backpack, Alie packed much of our other things for Rowan. And like a baby speaking their first words, I uttered words I never thought I would form: "Alie, maybe we should get one of those Smarte Cartes sitting outside the terminal to haul our luggage."
I've never brought this much luggage on a trip. In the past, I've watched in horror while families with carts of luggage stacked like a pyramid of cards, seconds from a disaster, stroll through the terminals.
Up to this point in my life, I thoughts carts were superfluous and unnecessary, much like the e's on the end of not-so-cleverly named, Smarte Carte.
I don't get along well with carts. I find them generally unacceptable and, until recently, I've been shopping at Costco for years refusing to submit to the cart system. But I've learned one thing: Costco employees don't really know what to do with you kicking a 72-pack of paper towels and diapers across the floor during checkout.
At the airport, as we strolled to the check-in counter with our trusty Smarte Carte, we did something else that a younger version of myself would have rolled his eyes at.
We checked two bags. 
I'm basically less than human at this point and we still have to stroll through security. 
I know you must be thinking, "I feel really bad for Nate right now in a totally non-sarcastic way." Thanks. I certainly feel the sincerity.
So did the Southwest woman at check-in, because my wide-eyed expression was saying, "It's our first time flying with a child." She motioned to our car seat, letting us know we might want to bring it on the plane with us. We held up the line of people behind us as we went back and forth on the pros and cons of using a car seat or not. 
We took her at her non-sarcastic word when she said, "You don't have to use it, but you might want to think about it," which I interpreted as, "You sweet ignorant first-time parent. You don't know anything."
Somehow we made it through security—car seat, and Smarte Carte in tow—then made our way safely aboard our Southwest flight headed northeast.
Our flight was filled with nervousness, excitement, and edge-of-our-seats suspense of a potential major blowout. But the Southwest Gods were looking over us today and decided to make this unanticipated non-blowout adventure more memorable than we could have imagined. 
It used to feel like there was an art to preparing for a trip, but just like a beautiful piece of art doesn't resemble one another, neither does one trip from another. 
"Beauty lies in the eye of the beholder." This saying has never rung more true than this most recent trip. I'm not sure I'll ever find beauty in using a cart, but I've found a new appreciation for traveling with an infant. Even if this new mode of travel resembles a Jackson Pollock painting then a peaceful rendition by Edward Hopper. 
After landing in Milwaukee, new concerns took over. But my daughter's first flight is one we'll never forget.
---
⚡️ Two creatives hits for you to check out
next
Okay! Serif—A fun, affordable serif font for headlines
👨‍💻 Live workshops as a way to launch an idea
Found this thread helpful in thinking as I build out my own live workshops
---
👋 See you next Sunday
If you've forgotten who I am, here's a little bit about me. As always, my calendar is open to chat about your next adventure, crazy idea, or if you're feeling creatively stuck.
Have a great week,
p.s. If you enjoyed this letter, would you please let me know by tapping on the heart below?