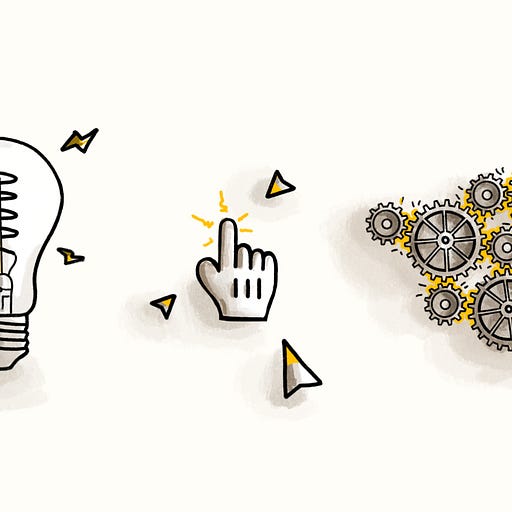 Jun 6, 2021 • 8M
Are you an Entrepreneur, a Technician, or a Manager?
Plus, a half-assed review of The E-Myth
I'm Nate Kadlac, designer of Plan Your Next. A weekly newsletter that connects design, creativity, and how you prepare for your next thing.
👋 Hello! I'm Nate Kadlac, and this is #63 of Plan Your Next. It's a newsletter that connects design, creativity, and how you prepare for your next thing. If you're one of the eight new subscribers, welcome!
Good morning from Los Angeles!
What's new this week?
🎨 Approachable Design kicks off in 3 weeks!
For those new around here, I teach a live 2-day design workshop to help you stand out by learning how to create your own personal aesthetic.
To keep it intimate, there are only 14 spots open for this next cohort. The Essential tier retains the same reduced pricing as the first cohort, as we work out the kinks and deliver a top-shelf experience.
If you're curious, please visit approachabledesign.co to learn what it's all about.
🎤 I was a guest on Josh Cadorette's Building Out Loud podcast. We talked about building a cohort-based course and making design approachable for all.
⛳️ On Deck Course Creators just wrapped up its 8th and final week. I was so honored to play a small role in supporting the 130 people who signed up. I've learned a lot, and if you ever want to talk courses, please let me know!
📖 Reading The E-Myth Revisited. I feel like a moron not reading this years ago!
---
The three roles of building a business
In less than a month I'll be leaving my job to pursue something new. My life will look the same in the short-term, consisting of sitting at home in my pj's in front of the Zoom grid playing with video filters.
But it took a few weeks to come to that conclusion. After spending some time speaking to half a dozen people about what the shape of this new life might look like, I feel confident making a slightly crazy decision like this.
But, had I made this decision years ago, someone named Old Nate would approach this very differently.
So I made a pact with myself.
A pact that separates Old Nate from New Nate.
These are two different people with two different mindsets.
There are many differences, but they all became very clear while recently reading The E-Myth Revisited. The book was published 26 years ago, so it's fair to say I'm taking business advice from a book with an awkward title and dated reference.
Granted, while we have scrubbed the 'E' prefix from many web-centric nouns, we do still say E-Mail and E-Commerce. I don't feel all that bad for advice from The E-Myth.
Instead of it standing for "Electronic," The E-Myth stands for The Entrepreneurial Myth. The book suggests that everyone who gets into business is actually three people-in-one. The Entrepreneur, The Technician, and The Manager.
The book explains the problematic relationship between these three identities:
To The Manager, then, The Technician becomes a problem to be managed. To The Technician, The Manager becomes a meddler to be avoided. To both of them, The Entrepreneur is the one who got them into trouble in the first place!
Here's how I rank myself:
The Technician

The Entrepreneur

The Manager
As a designer, I am a skilled Technician. I'm great at what I do, and I value my craft and rely heavily on it. Maybe too much.
Old Nate would dive straight into business relying solely on my skills as a Technician.
"And that in a Technician-driven business, without The Entrepreneur to lead her and The Manager to supervise her, The Technician will work until she drops, only to wake up the next morning to go to work even harder, and the next, and the next."
Likely, this outcome looks something like freelancing until I drop, or running a small studio until I drop.
Dropping doesn't sound like that much fun, or different from what I'm doing now.
This imbalance clearly states that if I rely solely on my ability to design, I'm only creating another job for myself. Without the harmony of being able to simplify the tasks of the past, and make space to visualize the future, Old Nate will focus on the present and stay there.
That Fatal Assumption is: if you understand the technical work of a business, you understand a business that does that technical work.
Put another way, it's easy for me to make the fatal assumption that knowing how to design gives me the understanding of running a design business.
Admittedly, my current blind spot and least favorite thing to do is making time to manage, in the way that's needed to build systems.
I don't have a perfect plan for New Nate. But I have realized I need to make space for the past, present, and future. The facets of a business outside the business of designing.
It's easy to say, but it's a crutch in practice.
Old Nate would focus on the present, looking down at my feet while I walk.
New Nate is thinking about how to build systems around what's worked in the past, and make space for thinking about what's going to happen in the future.
Call this leverage, compounding, or whichever mathematical catapult you prefer.
The imbalanced equation
Being 70% entrepreneur and succeeding based on vision is a myth. You may have seen this happen up close or on your favorite Twitter thread.
Being 70% Technician and hoping you can work your way out of a business might give you some early runway, but ultimately you're looking directly into the eyes of Old Nate.
And we all know what Managers are capable of. (I kid, sort of)
I've also seen it work out well, and I'm thankful to have learned that balance from a good friend.
Aaron Kardell is one of my favorite entrepreneurs—and a close friend—who started HomeSpotter 12 years ago. While he might not admit it, Aaron is a well-balanced Technician, Manager, and Entrepreneur.
An entrepreneur who knows how to code, sell, build and manage a team.
I've had the pleasure to work with Aaron for over a decade, and it's been remarkable to see how he has toggled through these different identities in varying scenarios.
There are many people I'll miss working with, but none more than Aaron.
I'm leaving a job and an old identity, but New Nate is up for this new life.
::Special thanks to Khe, Rob, Paul, Cam, Joseph, Andrew, Nick, Tim, and of course my wife, Alie, for listening and offering support to me over the past 3 weeks::
---
⚡️ Inspiration for 
next
 week
📈 A marketing masterclass by Steve Jobs
In a noisy and complicated world, how do you get people to remember you?
🤔 Why don't you know what you really want next?
Alan Watts shares two insights:
You have it already

You don't know yourself.. .cause you never can
It's worth the entire 12 min.
🏡 How to make a house feel like a home
As someone who loves to embrace one's taste, Tim explains how he designs his house to feel like a home. Also, I learned about biophilic design.
---
👋 See you next Sunday
If you've forgotten who I am, here's a little bit about me. As always, my calendar is open to chat about your crazy ideas or if you're creatively stuck.
Have a great week,
Twitter: @kadlac
Web: kadlac.com
Workshop: approachabledesign.co