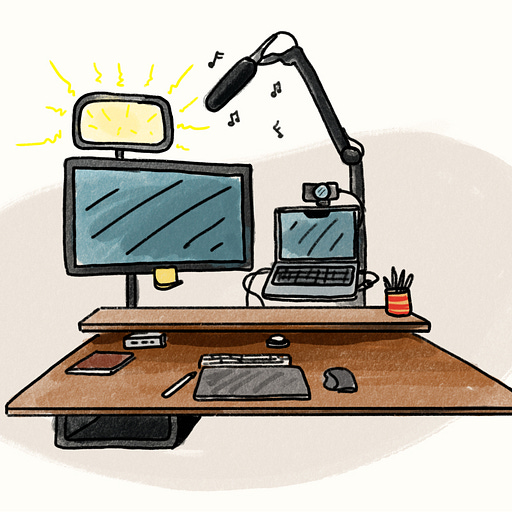 Nov 21, 2021 • 2M
I hate that I love technology: Introducing my tech toolkit
Plan Your Next #87
I'm Nate Kadlac, designer of Plan Your Next. A weekly newsletter that connects design, creativity, and how you prepare for your next thing.
👋 Good morning from Los Angeles! I'm Nate Kadlac, and this is #87 of Plan Your Next. A Sunday newsletter that connects design, creativity, and how you prepare for your next thing.
Welcome to the 29 new people since last week!
What's new this week?
👨‍⚖️ An article I wrote a while back was cited in a Law Journal. Check out Footnote 101! Thanks, Jonah!
👨‍🎨 I started to build out a self-paced, bite-sized course on using Figma to build slide decks and presentations. I've designed fundraising decks that have helped raise millions of dollars, and I think Figma is one of the best ways to do this. Hit reply if you want to know when I release the first version of it. And if you want to know anything specific, let me know and I might include it.
Good morning from Los Angeles!
I hate that I love technology. Its constant evolution is a dopamine hit that continues to punch the same spot in my brain, year over year. And if you follow what's happening in the web3 space, it feels like it's rocketing at an even greater clip than Moore's Law.
In the 7 days since I wrote my last newsletter, 14,000+ members of ConstitutionDao raised $42+ million to bid on the only remaining private copy of the Constitution. By Thursday, the group (and me) were outbid, and life suddenly went back to normal, waiting for the next project.
Just today, technology took a swing at the knees of our burr coffee grinder, but thankfully that offline product doesn't live in the latest web3 dao, and lasted us 7 years; not 7 days.
This also happened to be the first year I didn't upgrade my iPhone to the latest iPhone, and I did a little Rocky dance in my mind for fighting back the urge.
Nate: 1, Technology: 1,000,000.
I hate that I love technology so much, I thought I'd list everything I rely on, as a therapeutic measure to see how crazy I really am. And maybe it will help me ease back on a few things? Maybe.
What's on your own tech list?
Some of these links are affiliate URLs, but I make that clear below.
Creativity + Productivity
Figma
I use this every.single.day. It's my most recommended design tool for everyone, not just designers.
Loom
Like Figma, this is integral to my workflow. I use it almost daily when recording feedback videos, or helping show how I deconstruct design. I also use this for Approachable Design when doing tutorial videos. (Although I may switch to Screenflow for editing those.)
ScreenFlow
I just upgraded this the other day to make my mini-course on using Figma, and I'm impressed by how much it's improved.
12.9" iPad Pro (2018 256GB model) + Apple Pencil + Magic Keyboard
I use this for all of my illustrations, usually every few days. The Magic Keyboard is a gem to type on, and prefer that if I'm in a pinch.
Descript
I use this for editing some of my video transcripts, as well as our podcast that Reza and I need to get back to recording! You can quickly select all of your filler words ("um's" and "uh's") and delete them quickly. You can also train the software to use your voice if you want to add in words. I use this weekly.
Roam
Since early 2020, I use Roam for my notetaking and info capture. Any note or idea I want to save, I'll add it here.
Notion
I've been using Notion for the past 6 months as a way to track tasks in my projects and domains. I follow the approach Khe Hy teaches, which I highly recommend checking out.
Procreate
This is an iPad app for creating digital art, like the ones you see at the top of this newsletter. It's what I recommend for anyone trying to get into drawing or creating their own illustrative style. It's what many professional artists use, as well as many who don't consider themselves traditional artists, but who want to express themselves creatively, like Matt.
Final Cut Pro
I don't use this as much anymore but I did have a short stint as a wannabe vlogger. I'd love to pick up videos once again at some point, but it definitely wouldn't be a reality show of my boring life. 😂
Adobe Creative Cloud subscription with 2TB
I mainly use Lightroom CC, Photoshop, and Illustrator, but I'd love to wean off off these over the next year.
Finance
YNAB* (TradFi)
Alie and I used this for a long time to get on the same page with our spending, but we use it much less now. However, I still keep it around as a way to peek in every now and then.
*One-month free referral link
Personal Capital* (TradFi + Crypto beta)
I use this to keep track of most of my traditional finances, although I only check this about once a month or less, just to make sure nothing crazy happened. They recently introduced a way to track specific cryptocurrencies but depending on how active you are, it might not be worth the effort.
*$20 referral link
Chase Sapphire Card
Once my wife and I went 100% debt-free, we switched to using a rewards card for daily purchases. For the past 4 years we have been using this specific card, and pay the balance off monthly. For us, it's the easiest way to pay for our travel using points without having to think about it. The annual fees make me cringe every year, but we have found the benefits worth it. We book our travel through Chase Rewards, which maximizes the travel points (1.5x). Of course, we haven't been traveling at all, but we've been stocking up travel points over the last 18 months.
Vanguard (TradFi)
Much of my retirement funds are locked up into long-term low index funds that automatically get rebalanced. (~90/10 stocks/bonds split) Out of sight, out of mind.
Betterment* (TradFi)
I use Betterment for my non-tax deferred savings, with goals set up. It makes it a bit easier to access, and I mostly like to experiment with low-fee AI-based rebalancing, taking advantage of their tax harvesting as well.
*$5,000 managed for free referral link
BlockFi (BlockFi)
This is where I keep some BTC and ETH for the long haul, earning what many would consider in DeFi a very low return (6-10%). But I'm all about the long game and would prefer to earn a small return and not think about it.
Ledger Wallet* (DeFi)
I currently have both the Ledger Nano X and the Ledger Nano S. I don't think you need two for cold storage, but if you're dabbling in the space, I think it's worth getting the feel for how these work.
*20% off referral link
MetaMask Wallet (DeFi)
This is a digital wallet that lives in your browser. Imagine your bank account easily accessible from any website that takes cryptocurrency. Never share your secret keyword phrase with anyone.
Zapper (DeFi)
This is a dashboard—like Personal Capital—but for your digital wallet. But you can do a lot more like swapping tokens, bridging assets from one protocol to another, staking, and pooling funds. Simply, it gives you an overall view of your public wallets. Your public key is actually public, so anyone with it could plug it in and see what you're storing. Keep in mind, this doesn't make it less safe, unless someone gets your recovery keys. Be incredibly careful about not sharing these. In many cases, you might have several digital wallets and use 1-2 to transact with regularly.
Marketing
Substack
This is what you're reading right now! The ease and use of spinning up a newsletter keeps me coming back. I'd love to potentially consolidate this to ConvertKit but I'm not convinced that's the best move right now.
ConvertKit*
I've grown to love this company and wielding it is a bit like using Photoshop. It can be unforgiving, but I love how focused they are on creators.
*Referral link to add 100 free subscribers to your account
Webflow*
This runs both my personal site, kadlac.com and business, approachabledesign.com. I also love to use this for prototyping live ideas out. I also recommend most people to Webflow because it's so customizable. It's not the cheapest option, but if you can dream it, most likely can build it in Webflow.
*Referral link
Calendly
I pay the monthly fee here to have more control over my creative calls, and I get to customize it a bit more. I use this service weekly.
Zoom
I mean, do I really need to say anything else here?
Yourwebsite.com hosting
I should probably stop paying this $6/mo plan, but I keep our wedding site I designed humming out of nostalgia. It's built using Jekyll—a static site generator—and I also generally like having FTP access to a shared server somewhere.
Home
Peloton Bike (2018 gen2 model)
For as much controversy there is over having single-use gym equipment like this in a home, it's been one of the best health investments I've made. I personally can't stand going to a gym, and 3 years later, Alie and I still use this about 4-5x a week combined.
Hue Lights
I don't consider our home a "smart home," but this is the closest thing that comes to it. I use these in my office to set a vibe when I write, design, or shoot videos. I just installed a few in our living room lamps recently to do the same thing. We don't have Alexa or Siri running things, so we manually turn them on/off.
Corvo Electric Kettle
I use this for my single-serve coffee with the Aeropress, or for serving tea. It takes about 2 minutes to boil water, and the design of this product is off the charts. I will most likely pick up their grinder as well. FWIW I brew my coffee at 185 degrees to keep the acidity low.
BenQ HT2050A Projector
After spending the last 8 years without a TV, we broke down and purchased a projector. I still can't stand the idea of having a large rectangle absorbing all the attention of a room, so this was our compromise. We paired it with a Sonos Beam for some decent sound, but we don't keep it up very often and use it only for movies.
Hardware
14" MacBook Pro M1 Max with 2TB Drive
I recently upgraded this as I was running into RAM memory issues with my previous laptop. It comes as no surprise I use this daily, and breezes through every task. But, I'd say that about any new machine. I generally upgrade my main laptop every third generation. (~3 years)
Elgato Keylight
As much as I dislike having a fill light during some of my Zoom calls, this truly does help with poor lighting.
27" LG Ultrafine 5k monitor
I've been lugging this monitor around since it was released in 2016, and it's where I do most of my design work when I'm at my desk.
48" Uplift Standing Desk (Walnut veneer w/plywood core desktop built by a local handyman)
I've had this desk since 2018, and I'm not sure I would ever go back to a fixed-height desk. I still don't stand as much as I should, but it's great to have the option.
Sony A6400 with Zeiss 1.8 24mm lens
The camera body means very little, but I love the fast 1.8 aperture with a prime lens. I set this to manual focus and hardly ever need to touch it. What's great is that I use this for recording high-quality demos/workshops, so it's my primary camera.
Seinheisser MKH416 Shotgun mic
Picked this baby up used on Facebook Marketplace and have been using it mainly for my workshop and zoom calls, including new course recordings. I prefer this because it's out of camera view, but I could probably improve the quality if I prepped my room with some foam. But who wants to do that?
Apple Airpods v2
I have such a love/hate relationship with these. They are absolutely a joy to use, but the mic quality is shit, and I've had to turn off the automatic switching feature because I've had so many issues when connecting to Zoom. Ask anyone at my 6 am writing group.
iPhone 12 mini
My favorite iPhone since maybe the 4S? I love the size and the MagSafe feature.
Leica Q
I keep this fixed full-frame camera on hand when I'm traveling since it's ridiculously easy to push/pull my photos in any direction. It's what I use to shoot photos like this where I can leave it open and hardly need to process. (I just realized I passed half a million views of that photo on Unsplash! Fun.)
Logitech MX Master 3 Mouse
I' haven't used a different mouse model (except for the 3-4 times I've forgotten it while traveling) in the past 8-9 years? I could probably use this on water and it would still work.
Elgato Streamdeck MK.2
I'm still getting used to this, but it's really handy during our workshops when I need to mute everyone, share my screen, or end calls. And those are probably the 3 most basic things you can do with it.
Kindle Oasis (2016 Gen 1)
For whatever reason, this is one of those purchases that I would make again without thinking. The size, the strange square dimensions, and the leather flip cover that is held together by a magnet are so beautifully designed. The software and refresh rates will always be lacking, but I love picking this up and not feeling like I'm holding a cheap piece of plastic while reading. The battery in both the device and the cover are genius as well.
Brother Monochrome Laser Printer
We hardly need to use this, but yet we can't quite live without a printer. This printer is strictly monochrome, so you don't run out of ink that quickly, and uses wifi so you can store it out of the way. I've had this since 2014 and swear by it for 99% of the things I need it for. If I need to print images, I'll use an online service.
—
I didn't cover every piece of tech, but these are the most significant. It's a little disheartening thinking about what I depend on, but it's also difficult to think about what I should get rid of. Would love to hear your thoughts or hit reply with questions.
---
⚡️ Two creative hits for 
next
 week
This handbook by Julian Shapiro is brilliant, and I love much of the thinking behind it. There are a few great ideas here:
Find an objective for your piece

Find a motivation so you finish it

Make it stick using stories/analogies
📈 This is a great thread on how to compete against a dominant player in your market. Part of their success was learning why people switched from Canva to Snappa, then using that to their advantage across their product UX and positioning.

But if I were you, I'd still use Figma 🙂
---
👋 See you next Sunday
If you've forgotten who I am, here's a little bit about me. As always, my calendar is open to chat about your next adventure, crazy idea, or if you're feeling creatively stuck.
Have a great week,
p.s. If you enjoyed this letter, would you please let me know by tapping on the heart below?