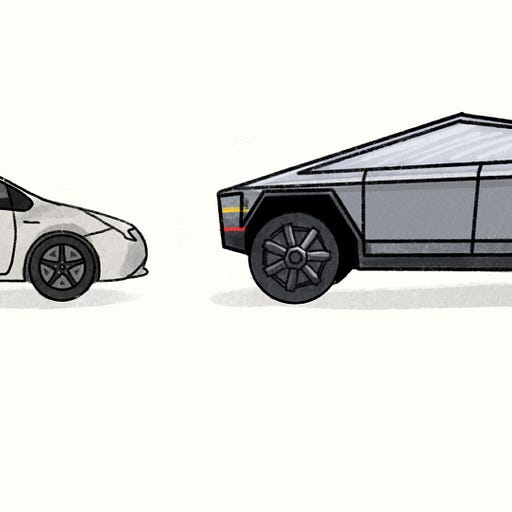 Jul 4, 2021 • 4M
Stylistically significant
Chasing short-term design trends lead to long-term exhaustion
I'm Nate Kadlac, designer of Plan Your Next. A weekly newsletter that connects design, creativity, and how you prepare for your next thing.
👋 Hello! I'm Nate Kadlac, and this is #67 of Plan Your Next. It's a newsletter that connects design, creativity, and how you prepare for your next thing. We're now 388 strong, so if you're new here, welcome!
---
Good morning from Los Angeles!
What's new this week?
Friday was my last day in my role as Creative Director. Tapping out of my work email and slack channels was surprisingly satisfying. Although I'm now torn as to what do the newly unemployed put on their LinkedIn profiles?
Am I looking for freelance work? At the moment, I've been turning down requests for freelance work. But, if there's something you can't shut up about, get in touch with me. Right now it's either, "Hell yeah, or no."
Courses I'm enrolled in. I am in the middle of three courses at the moment as I start this solo journey. Brennan Dunn's Mastering ConvertKit, Will Steiner's Email Based Course, and I just finished Nat Eliason's DeFi Orientation. Nat's course is a great orientation for beginners, and it takes only about an hour. The money you stake to take the course is given back to you in your ETH wallet once you complete it. So it's an incredible deal to learn the basics of DeFi, for free!
Lastly, a random idea on Twitter
---
Does your style matter?
Hell yes.
"But of course a designer would say this," you might think to yourself while simultaneously rolling your eyes. You're great at multi-tasking btw.
"Type must draw attention to itself before it is read, but in order to be read, it must relinquish its attention that is drawn."—Robert Bringhurst, The Elements of Typographic Style
While Robert is talking about typography, you can apply this attitude broadly to visual style. Style is what drew me closer to my now wife by a photograph I saw of her in SF.
Simply, it was her style. She was at Outside Lands, a music festival wrapped in a fiery red headscarf because it's so damn cold there in the summer. She looked comfortable and confident in her own skin, with friends who she obviously loved and loved her back. But truly, she was fucking vibin' in aviators and a long sleeve black shawl.
Style is how we communicate with each other without uttering a word. Like it or not, the decisions you make not only affect the perception you have of yourself, but the perception others have of you.
Elon Musk once tweeted, "I judge a book by its cover." And while he was literally talking about book covers, it's an obvious statement that applies across much of the work we create.
If you're an author, filmmaker, YouTuber, founder, maker, or any other type of person who builds, no one will know the amount of work you put into your craft. No one can truly appreciate that side of things. You'll have mere seconds to capture their attention with your visual style. In other words, how you communicate with us visually.
When Elon Musk helped design the first Roadster, he could have copied any of the electric cars on the market. It could have matched the style of a Prius. Instead, he relied on his own unique taste—confidence in his own aesthetic—which led him to create the S.E.X.Y. lineup we know today.
Specifically, the Cybertruck goes against all odds of what should be built in the competitive landscape. It's yet to be successful, but building a car that stands out as it does requires an immense amount of confidence in one's taste.
Aesthetics is the language of feeling, and in a society that's information rich and time-poor, people value feeling more than information"—Marty Neumeier, The Brand Gap
Style is what draws us in, and helps us connect to one another. It could be as simple as a band poster, or an 'I Love NYC' shirt.
To stand out means to be confident in who you are. You can't just copy the style of someone else, because ultimately you're not knotted at the root level.
Stylistically stolen
Toby Shorin wrote a great piece on the Diminishing Marginal Value of Aesthetics, and highlighted Hassan Rahim who designed the artwork for Jacques Greene's 2016 album Feel Infinite.
The original design was found all over the place and peaked with the artwork for a Nick Jonas single. Now, you can find this aesthetic as a default for many DTC Ecommerce branded templates.
By not listening to your own perspective and visual taste, it's possible you might end up copying the look of a dated Nick Jonas single.
And no one wants that.
⚡️ Inspiration for 
next
 week
As I continue to find ways to make design more approachable, I've been recording videos like this one for my students. If you've ever wanted to learn how to adjust and combine colors, this might help.
A Q&A between the Chief Evangelist at Synthesis and Polina Marinova. A great reminder of how critical having fun while learning helps kids become better decision-makers. Here's one of my favorite answers:
Q: As someone with two young children, my daughter just turned two, what's the best way to prep her for a synthesis education?
FABREGA: Give them the freedom to play, explore, and pursue their own interests.
It seems too simple.
🪟 Landing page inspiration
Blake Emal has analyzed 100s of landing pages. Here's his top 34.
---
👋 See you next Sunday
If you've forgotten who I am, here's a little bit about me. As always, my calendar is open to chat about your crazy ideas or if you're creatively stuck.
Have a great week,
Twitter: @kadlac
Web: kadlac.com
Workshop: approachabledesign.co