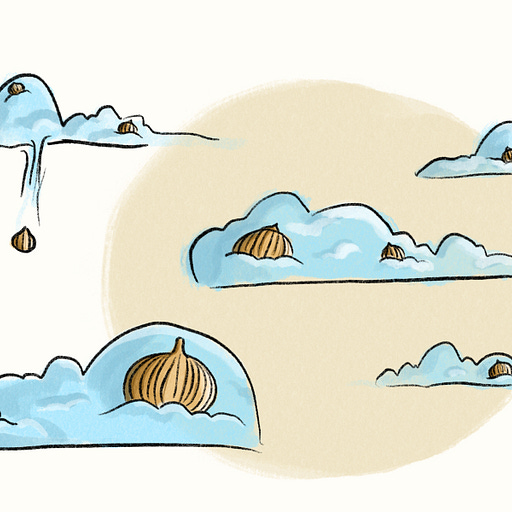 Feb 7, 2021 • 5M
PYN - Selling onions on the internet. Plus, your next special guest.
I'm Nate Kadlac, designer of Plan Your Next. A weekly newsletter that connects design, creativity, and how you prepare for your next thing.
👋 Hello! I'm Nate Kadlac, and this is #46 of Plan Your Next. It's a newsletter that connects design, creativity, and how you prepare for your next thing.
Usually, I reserve this spot to say some quippy remark about the timelessness of this letter, but this week I want to thank the 23(!) new subscribers who decided to join the PYN cult. Might I add, you look damn good this Sunday morning!
If you know someone who might love this, would you consider sharing?
---
What's new this week?
🎤 Ep. 12 of It's Gotta Be The Mic: Reza and I have our first guest! Max Nussenbaum sat down with us to talk about the tension between being an artist and a founder, plus many other creative adventures. If you have any feedback on how this went, hit reply and let me know.
🖌 My illustration process was featured in The Featured Image, a newsletter by Erik Jones.
📖 Reading the science fiction novel, The Three-Body Problem by Ken Liu.
---
Good morning from Los Angeles!
I don't recommend killing a company off by letting its domain name expire. But if you're looking to call it quits, it's a shocking, yet an incredibly cathartic way to get a hold of reality.
This happened twice to me over the past decade.
At first, it's hard to believe you let it lapse, but you quickly realize you were like a deer in headlights, watching the car speed towards you all along. It's over before you were hit, but the accident needed to happen to finally call it quits.
Domain names have a unique ability to inspire. I imagine owning a domain is like owning an empty plot of land, Theroux style. It's vast, infinitely inspiring, and we're naturally drawn to what could be.
Like reading a book starting from the index, what if you could hack the order of conventional thinking to your advantage? What if you started with a domain before you had an idea?
Peter Askew sells onions on the internet.
Peter's story is compelling. He builds businesses starting with the domain name.
He's doesn't have a computer science background, but he got into buying, selling, and investing in domain names in the mid-2000s.
Instead of coming up with an idea, Peter looks for domains that have traffic or authority in a space. Then, he tries to tailor a business from a keyword descriptive domain like candy.com, or VidaliaOnions.com, which he now runs.
Half a million domain names expire every day, which are free ideas for you to use for something new.
Peter monitors expired domain names, and now runs companies using this method like duderanch.com, BirthdayParties.com, and others.
There are many ways to get an idea for your next thing, but one counterintuitive way is to start with the domain name. It's a cheat code to fueling your creativity, and to finding inspiration.
Ways to find domains:
---
Plan Your Next featured guest
Every now and then, I aim to unlock insights from entrepreneurs and creators who are chasing their next thing. This week, I'm honored to highlight, Andrew Barry.
To go fast, go alone, but to go far, go together.
Who is Andrew Barry?
Andrew is a force. I had the pleasure of meeting him last year while he was running his own company, Curious Lion Learning. Just recently, he was brought on to be the Program Director of On Deck Course Creator. He's helping unlock the expertise most of us have locked up. This transition into his next thing is why I wanted to highlight him this month.
Andrew, what do you spend most of your time during the day working on?
Father to Leo, Ghostwriter agency owner for online courses, Program Director for On Deck Course Creator.
When was the last time you made an unexpected pivot in direction, either recently or in the past?
On Dec 31st, 2020 I signed up as an employee of On Deck, my first W2 role since 2016. I learned that it is true: to go fast, go alone, but to go far, go together.
What were you doing prior to this?
Being complacent about productizing and systematizing my company, Curious Lion.
What would you tell someone who feels stuck in pursuing their next idea?
Just do it. Start small, and test your idea as soon as you can to get feedback. The best way I know how to do this is through writing.
A favorite quote or piece of advice you live by?
Ego is the enemy.
What do you need help with?
If you have an online course or an audience that you want to create a course for, come check out the newest On Deck Fellowship - www.beondeck.com/course-creators.
Where can someone find you online?
@Bazzaruto on Twitter!
---
⚡️ Inspiration for this week
I'm a huge fan of Webflow. My own site runs on it, and this is after coding my own sites for years before that. This is a great quick primer to knowing what goes into building your own site on Webflow. (Affiliate link)
I'm continually inspired by both of these gents. This is a great video on never running out of ideas.
I'm a big fan of the Pomodoro Technique and this hourglass is a beautiful way to avoid digital timers or any software to assist in staying focused.
---
👋 See you next Sunday
If you've forgotten who I am, here's a little bit about me. As always, my calendar is always open to chat about your crazy ideas or if you're creatively stuck.
Have a great week,
Twitter: @kadlac
Web: kadlac.com