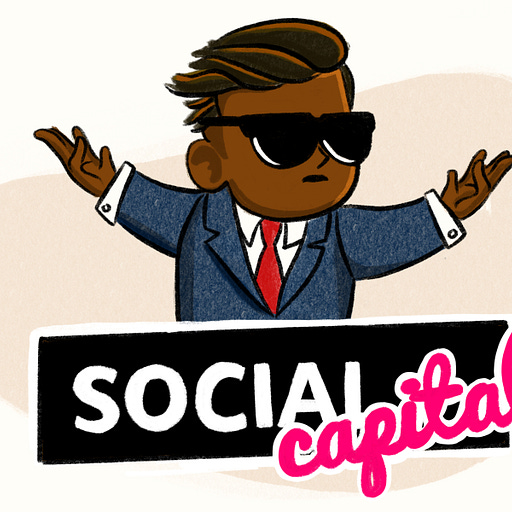 Jan 31, 2021 • 7M
PYN - Start building your social capital, plus a special guest
I'm Nate Kadlac, designer of Plan Your Next. A weekly newsletter that connects design, creativity, and how you prepare for your next thing.
👋 Hello! I'm Nate Kadlac, and this is #45 of Plan Your Next. It's a newsletter that connects design, creativity, and how you prepare for your next thing.
Every Sunday, I aim to make this newsletter as timeless as the GameStop long call by u/DeepFuckingValue. If you're new here, join us!
---
What's new this week?
🎤 It's Gotta be the Mic podcast ep. 11: Reza and I chat about Apple TV's Ted Lasso and what we learned from it. Next week we'll be having our first guest! Why not subscribe?
☕️ Do you love coffee? Our previous PYN guest—Greg Frontiero—is gifting all Plan Your Next cult members with 10% off his Flow State Coffee. I hoped to ween myself off coffee this month, but I've been cheating. Greg uses a custom organic blend using L-Theanine and Raw Cacao to lower anxiety and support creativity.
---
Good morning from Los Angeles!
I think about how many times I've attempted to start writing online.
Early on in my career —or 50 years ago, my wife might joke—I was building out my website, eager to start writing. I asked my neighbor—who happened to be a developer—to hook up a simple database so I could start writing blog entries on my site. That's what we used to say 50 years ago.
It was my first attempt at writing online, and I quickly discovered writing about my dating life led to uncomfortable conversations.
It was my first and last taste of writing online for a couple of years.
Over the years, I tried a number of times, but never fully developed writing into a habit. It's unfortunate because my focus was too narrow. I was young, dumb, and couldn't see the opportunity cost of not writing.
I was missing out on building social capital. As I've said before, I was putting myself in an unlucky position.
In Robert Putnam's book, "Bowling Alone," he states social capital is a form of wealth that can compound and throw off real dividends when it's cultivated, or wither and die when it's drawn down or neglected.
Social capital isn't about money. It's about the opportunity to cultivate and capitalize on the intangible bets you place throughout your life.
If you were paying attention this week to GameStop and AMC, social capital is what helped enable the fight against hedge funds who short-sold these companies. This didn't happen overnight. It's been building since 2012 when the subreddit r/wallstreetbets originally formed. Reddit u/deepfuckingvalue placed his well-researched bet on GameStop over a year ago, building their social capital along the way by posting regular updates and inviting others in. It culminated in a movement that potentially could affect short-selling altogether. Citron Research already discontinued its popular reporting.
Social capital is readily available to anyone. It's accumulated through grit, creativity, situational-awareness, spotting opportunities, and antifragility. Building social capital is like building a well-diversified opportunistic capital portfolio. You can't sit in the same lane talking to the same people making the same decisions and walking the same life path, expecting anything to change.
Social capital thrives in the uncomfortable unrest of life. It suffers when it's stagnant or inactive.
50 years ago, I wish young Nate knew he was onto something and had pushed on that uncomfortable feeling. Writing is a great way to build social capital. As you cultivate it, it becomes like a credit card you can carry with you, accessible from a newsletter to a blog, or from a side-hustle to a company.
---
Plan Your Next featured guest
If you're new here, I aim to discover insights from entrepreneurs and creatives who are chasing their next thing. This week, we have the privilege to highlight Heather King.
Find people who have your best interest at heart, and share your thoughts. It can be intimidating to start a new idea, so lean on others to help you brainstorm a way to move forward. THAT will give you momentum.
Who is Heather King?
Like a rare gemstone, Heather is a unique talent combining apparel design, photo styling, and jewelry design. Heather's next thing is her recently launched jewelry line. Just look at those cuffs! Her brand merges her love for natural stones and urban sophistication.
She's based in New York, and has established herself as a Womenswear Designer and Product Developer in the apparel industry.
Heather, what do you spend most of your time during the day working on?
I'm a product developer obsessed with putting together funky fresh outfits. I spend a lot of time creating, thinking about creating and enjoying the little things in life. My full-time job as an apparel designer and side gig as a jewelry brand owner keeps me VERY busy!
When was the last time you made an unexpected pivot in direction, either recently or in the past?
I started a company in 2019. I was approached by an investor to build my personal jewelry into a full-blown brand. Something I may have dreamed about for myself but never thought I would have the capacity to make it happen. Well, this pushed me to get it done and get it done quickly.
I rely heavily on my support system to keep the momentum going. These individuals give me new ideas, guidance, and encouragement to continue building the brand. I may have lost my momentum long ago if not for the constant reminder that those that love me believe in me.
What were you doing prior to starting your jewelry line?
Still working my full-time apparel job which I do enjoy! But always wondering...is this it? Do I just...climb the corporate ladder? Will I always work for someone else? Will I ever build something for myself? I want to travel more, I want to explore other cultures. I want an alternative schedule, I want the freedom to switch things up.
What's a favorite quote you live by?
It's not an actual quote, but a mantra I have hanging on my front door. "It's ok to slow down". Being a career-driven woman in NYC can be overwhelming. And I have to remind myself to SLOW DOWN and smell the roses.
What would you tell someone who feels stuck in pursuing their next idea?
Talk it out! Find people who have your best interest at heart, and share your thoughts. It can be intimidating to start a new idea, so lean on others to help you brainstorm a way to move forward. THAT will give you momentum.
What do you need help with?
I'm looking to expand my customer reach. So I am always looking for suggestions on where to sell my jewelry other than on my site. And hey! If you love the designs, then word of mouth, spread the love!
Where can someone find you online?
www.heatherkingdesigns.com
Instagram
LinkedIn
---
⚡️ Inspiration for this week
This week was absolutely nuts. If it gave you insight into how much manipulation is happening in finance, then you may also be interested in DeFi and Bitcoin. I'm admittedly a believer in cryptocurrency and use Ledger wallets myself for offline storage. For those who have dabbled in cryptocurrency, this is a pretty unique—and well designed—solution to keeping your 24-word recovery phrase safe.
🐥 Three parts to building a personal monopoly
Curiosity: what do you care about?

Competence: what are you good at?

Character: who are you?
⏳ How James Clear, author of
Atomic Habits
, runs his business
Optimize for time before money. The most important question is, "How do I want to spend my days?" Make as few choices as possible that violate your answer.
---
👋 See you next Sunday
If you've forgotten who I am, here's a little bit about me. As always, my calendar is always open to chat about your crazy ideas or if you're creatively stuck.
Have a great week,
Twitter: @kadlac
Web: kadlac.com