If you're new here, welcome! I'm Nate, designer of Plan Your Next. We have added seven new subscribers from last week—and if you're curious—last week's letter had a 50% open rate, with 14 audio downloads. Enjoy the audio or written version of this newsletter.
---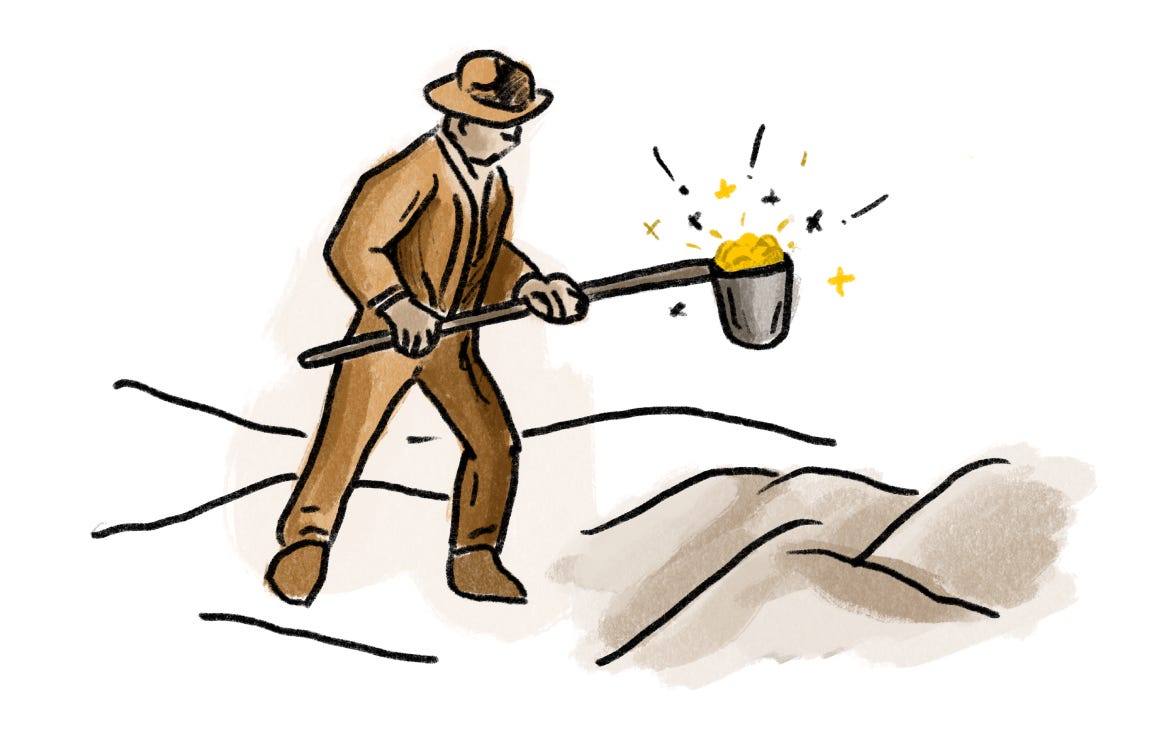 Good morning from Julian, California! We headed out of town this weekend, looking for a small town to hunker down into. We found Julian, a now-defunct mining town barely holding onto 1,500 people, as its population slowly recedes.
This small Southern California town is as American as you can imagine:
The gold rush era: Founded by Drury Bailey and his brothers during the mad dash to the West.

Branding and vanity never change: Drury named the town after his cousin Mike Julian because he was better looking than everyone else.

As American as…: Julian is known for its apple pie.
I think about this gold rush period a lot, and what it must have been like to wander into the unknown, looking to build an entirely new life.
I have had that feeling a couple of times in my life, to go all-in. The feeling in which fear takes a backseat to the desired outcome, for better or for worse.
But in many cases, fear sits side-by-side next to that ambition, forcing you to a crawl.
If you have felt that in your life, how have you dealt with it?
---
🧠 Your
next
idea
I'm always fascinated by the process of generating ideas. This is a great way to stay creative and continue to look at the world slightly differently. One way I've been doing this myself is through writing and conversations.
Here are some ideas for generating new ideas regularly:
James Altucher talks a lot about how generating ideas is like exercising a muscle. He's got a great article on his method, which involves writing down 10 ideas a day. Even if they're bad. You'll get better at it.
Long story short? Activating our creative minds requires effort, through writing, making things, or reading.
🎙 Your
next
podcast: Kanye West
Kanye is a symphony of ideas
As soon as I heard this podcast was published, I spent a few days trying to find time to fit in the three hours(!) of banter. It was the first time I was able to hear Kanye go in-depth into some of his complex ideas in long-form format, in which the host did''t continuously interrupt.
Like many, I'm truly fascinated by Kanye's dynamic and spiraling personality. He is not a person made for short format conversations. In many ways, neither were Elon Musk or Steve Jobs. You can pick apart their conversations and take them out of context, however you like.
What stood out to me was how Kanye describes his thinking as "a symphony of ideas." I can appreciate that after listening to this, even if some of them are far out. The wide path he walks to fully connect an idea requires patience.
Other lines from this interview made me forever intrigued by how he thinks:
"I would use confidence when I knew what I was doing, and I would arrogance when I didn't know what I was doing. But I would rather use arrogance than to let someone diminish the idea of myself."
"When I design, I have to pretend I'm a three-year-old."
"Building a house is like a practical joke on rich people."
"Relationships are better currency than money."
"Time is love. You love the things you put time into."
What I made this week
🎙 Episode #4 of It's Gotta be the Mic just dropped
🎨 Writer/artist Salman and I co-hosted a live Procreate demo for writers
See you
next
Sunday
Are there certain topics you would like me to cover? Hit reply and expect a response!
As always, my calendar is always open to chat about your crazy ideas.
Have a great week!