Discover more from Plan Your Next
We all have the next thing. Maybe it's a product you're building, a new skill you're acquiring, a goal to land a new job, or a trip you're going to take. Every Sunday I tell stories to inspire forward momentum.
Over 3,000 subscribers
Discover your visual style
How to set the foundation for timeless design decisions in five steps
👋 Good morning from Los Angeles! I'm Nate Kadlac, and this is Plan Your Next—a Sunday newsletter that connects design, creativity, and how you prepare for your next thing.
---
Discover your visual style: How to set the foundation for timeless design decisions in five steps
Most days you'll find me wearing a black V-neck and black pants. Not because I think it's cool, but because it's one part convenience and one part easy to match.
I wear black because I'm lazy.
And black just works. It's highly unlikely you're going to dress in all white, all purple, all green, or all yellow.
Although maybe I should be convinced otherwise?
Your visual style can be an anchor for your design decisions. It doesn't always need to be expressed in every single medium. I dial down my visual style in the clothes I wear, but it doesn't mean I don't let them fly in many of the products I build.
In fact, I define my fashion choices by what I don't like, versus what I do like. For example, I hate wearing anything heavily branded. I'd rather work out in a black cotton t-shirt than a Nike-branded moisture-wicking shirt.
I own very few printed tees because I'm lazy.
But launch a new website? This is where I think it's important to lean into your visual style. You can't greet every person who visits your website, so you're trying to connect with people through words and visuals. Not easy to do!
Here's a simple process I use to start the process of creating a visual style and say f*ck minimalism.
For this piece, I'll use a real example from our new game studio, Hey, Good Game.
1. Get personal: Connect to a favorite place or story
When I started to think about what kind of visual style I wanted to create for Hey, Good Game, I went to the stories and origins of some of my favorite puzzles. Sudoku and Hitori both have Japanese origins, and that small prompt took me back to a specific time I spent in Kyoto, near the Fushimi Inari Shrine.
Going through all my old pictures, I saw the color orange pop up over and over. The day was sunny, but the trail was crowded with cedar trees and bamboo. The Torri gates are all bright orange with dark markings in the names of the businesses and people who donated them.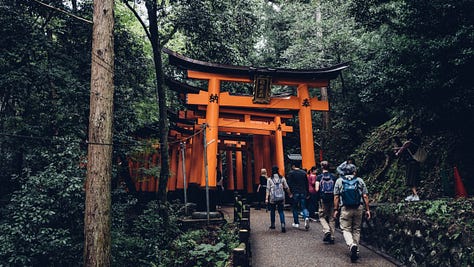 Most people skip this step, and instead, go and mimic a site they like, or a color palette someone else created. But these decisions have already been made for someone else, and for a different reason.
The secret is to make design decisions that connect to your own life, then you won't feel the need to update it six months later.
At this point, I quickly fell in love with this orange and black combination, although I want to be a bit careful with the easy overlap with Halloween.
2. Get curious: Create a visual research board
As of right now, I have two colors I know might work. While these choices will take me pretty far, I still need to find metaphors, objects, motifs, or other hooks that will connect me deeper to my decisions.
But I need to start doing some background research.
At this point, I want to start doing some research into the product itself. I want to find more connective pieces to pull this theme together.
I know we're building and buying logic-based mobile and web games, and so many of these games use a grid structure. Sharp corners, 1:1 squares, high contrast tiles, and sometimes large letters for games like Wordle.
I'm really thinking about all of these pieces while collecting visuals, backstories, icons, and typography.
There might be intriguing ways to remix the interesting pieces and give them a new look that connects with the theme from step one.
3. Embrace frequency bias: Look for patterns
Throughout my research, I started seeing a number of grids pop up. Then I noticed the color orange in the objects around me. Shortly after, I noticed a design book near my desk called Grid Systems, which is set in a similar orange, using black type, and is a book on grids!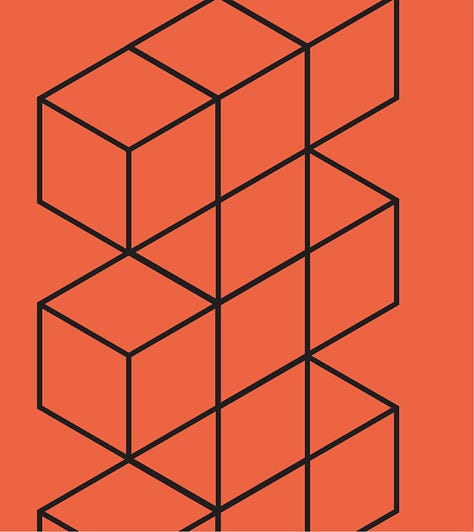 While it's not uncommon for this to happen when you start chasing rabbit holes, you should embrace this cognitive bias. It's an enjoyable experience in design, especially when you're trying to define a visual style.
Alongside the black and orange pairing, and overall grid structures, I loved how circles kept popping up in various ways. It contrasts the other shapes easily, and so I want to keep this around for safekeeping. In the back of my head, I started thinking about using an exclamation point due to its universal symbolism for excitement, and the instant energy it brings.
So, lock into anything that pops up 3-4 times around you, and give it serious consideration. Seeing these patterns confirms the direction I am heading in, giving me the head nod to keep exploring.
4. Check yourself: Are you straying too far?
This is just a simple checkpoint before starting to apply these initial decisions to a broader design project. Are you happy with the theme? Are these decisions personal and relevant to you?
Another trick I normally do is to sleep on it. If you wake up in the morning and still love the path you're on, listen to your gut and don't overthink it.
For many people, making design decisions takes far too long, because they continue to question themselves and whether or not it looks good.
Stick with your stories, connect visuals to them, and these initial themes will be the seeds for your products, websites, apparel, emails, apparel, and more.
5. Create a definitive visual taste palette
The last step is to build out an edge-to-edge board filled with visuals, type, color, shapes, and everything in between. I call this a taste palette. Do not leave any available white space!
The goal is to express your unique taste in a distinctive visual style, all stemming from your personal story.
A simple technique is to set the background color in one of the colors you chose, then screengrab everything you found that's related into one canvas.
Notice how we haven't actually designed anything yet! We're just being curious, experimenting, and seeing how far we can get without designing.
Once you have your taste palette, the next step is to design your site yourself or hire a designer to take this and run with it.
Most people skip this step and ask a designer to make these decisions, but having this ahead of time could save you thousands in revisions and redesigns later on.
Feel free to view the final landing page here.
---
⚡️ Your
next
creative hit
🥻 Balenciaga meets Star Wars. You will never view Star Wars the same again.
🛥️ Speaking of high fashion, I never expected Triangle of Sadness to be one of my favorite movies of the past year. ( I am a sucker for satirical black comedies and riveting YouTube thumbnails like this.)