Discover more from Plan Your Next
We all have the next thing. Maybe it's a product you're building, a new skill you're acquiring, a goal to land a new job, or a trip you're going to take. Every Sunday I tell stories to inspire forward momentum.
Over 2,000 subscribers
:: If you're new here, welcome! I'm Nate Kadlac, inexperienced pilot and designer of Plan Your Next. In this letter we chat about why you should start a newsletter ::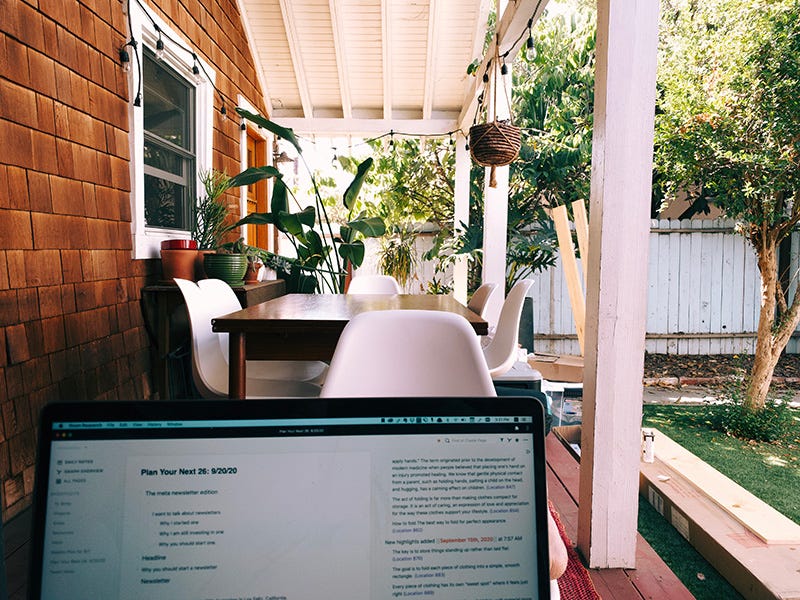 Good morning from our new, cozy little bungalow nestled in Los Feliz, California. We packed and shipped our belongings two miles from our old apartment in Silver Lake.
I'm writing this newsletter from our new porch, while staring at a mountain of cardboard boxes. All this while siphoning LTE data from my iPhone like an addict hoping to get WiFi service installed soon.
While I don't have a new piece to showcase this week, I do have some news to share: I was recently accepted into On Deck's Writer Fellowship. It's an eight-week program with an impressive mentor group, aimed to help online writers improve their craft.
I don't aspire to be a writer in the traditional sense, but I do enjoy it as a creative endeavor, as a way to build relationships and clarity of thought. And according to Greg, sell pillows?
The label "online writer" is silly, but it couldn't be more clear. Casey Neistat first referred to himself as a "YouTuber" when he started daily vlogging, and that sounded just as ridiculous. But, it resonates.
What does this mean for you? Hopefully, the writing will only continue to improve. 🙃
This week's letter is short, but I hope you enjoy it.
Moving as an opportunity to simplify
As the week started, I knew moving would give me a chance to get rid of a lot of stuff. Marie Kondo is everywhere, and so I quickly dove into her book, The Life Changing Magic of Tidying Up. I feel I'm the last one to be learning about her methods, but if you're unfamiliar, she trims the fat by allowing you only to keep items that spark joy.
Many of her principles apply not only to those unneeded items, but how much stuff is stored away never to be seen.
A few things stuck out to me after reading her book:
Vertical folding blew my mind

Storage experts are secretly hoarders

Sort by category, not by location
What does this have to do with starting a newsletter?
Since selling my condo nine years ago, I've moved nine times in nine years. I even made a video in SF about living small, but it felt as though we really didn't have anything figured out.
What living small helped me realize is you're constantly curating and editing your collection of things. We're not exhibiting our collection in a museum, but like the KonMari method, we're constantly removing what we think we need.
Writing a newsletter is like applying the KonMari framework to what you're reading throughout the week. You're constantly editing and deleting things you don't need, but highlighting the articles, stories, and insights that spark joy.
Why you should start a newsletter
One of my biggest regrets in starting this newsletter was cutting it short for a period of 20 months. I have a checkered past when it comes to consistency. But, we are in the early stages of this medium taking off. I even co-founded a newsletter startup years ago and didn't realize the full potential then!
At the core, newsletters are great for reaching an audience of friends and family. I've had more fulfilling conversations with friends through this format than I've had in person. There's something about writing that connects us, and I've grown closer to some of you because of it.
My friend Ritesh who writes a daily newsletter, talks about the connection vs the constraints of quality:
Writing a newsletter allows me to express without the constraints of quality as a guiding principle. As terrible as that sounds, the focus is on emotional expression and intent to connect with a more personal audience (invested in me) than the Internet at large. The constraint here is the regularity to which I'm committed. In my case, publishing every Monday quickly made way to publishing everyday. That's scary and exciting. Two words that sum up why I started and continue to write my newsletter. Fear and Desire.
How to start a newsletter
This is the easy part, depending on your perspective. I recommend going with Substack, which is what I use. There are many others to work with, but Substack is free, and built for you if you enjoy using Twitter, Instagram, reading articles, or books.
Other options include MailChimp, ConvertKit, TinyLetter, Ghost, and many more.
The KonMari of newsletters
Sharing the things that make us unique only draws us closer to each other. Let's KonMari the shit out of what we consume and share it via a newsletter. Let me know if I can help in any way.
---
If you're new here, this is Plan Your Next. It's a conversation about being ready for what's next. Well, because there is always a next.
If you have something to share or add, please hit reply and expect a response!
As always, my calendar is always open to chat about your crazy ideas.
See you next Sunday!