Discover more from Plan Your Next
We all have the next thing. Maybe it's a product you're building, a new skill you're acquiring, a goal to land a new job, or a trip you're going to take. Every Sunday I tell stories to inspire forward momentum.
Over 3,000 subscribers
Packing for your next trip
Plan Your Next: Letter No. 15
I've been a bag nerd for as long as I can remember. Every time I hear about a new travel backpack, my ears perk up, wondering in what way a bag can still be improved at this point.
Although I feel much less traveled than some of my friends, I've been to over 20 countries, having spent most of that time using a single carry-on for most of my trips.
This isn't a review of the best bag, although I do have my favorites. I'm still concerned about the functionality of what it can provide, but I think that the most significant gains can be found by minimizing the stuff you bring with.
My first big trip was when I was 20. Then I waited 5 more years after that to take my second most significant trip at the time, to London.
What I remember most about that London trip—other than the video I made—was that I spent two months before that trip in an REI, trying to decide what kind of bag and gear I should buy.
Gear. Gotta have the right gear.
I must have gone back to that store a dozen times with about $150 burning in my pocket, looking for the BEST bag I could possibly get my hands on.
I consulted friends, who told me that a backpack is best. Another who said to me to at least get one with wheels. Then lastly one who said I shouldn't get a black bag because they all look the same.
So guess what I got?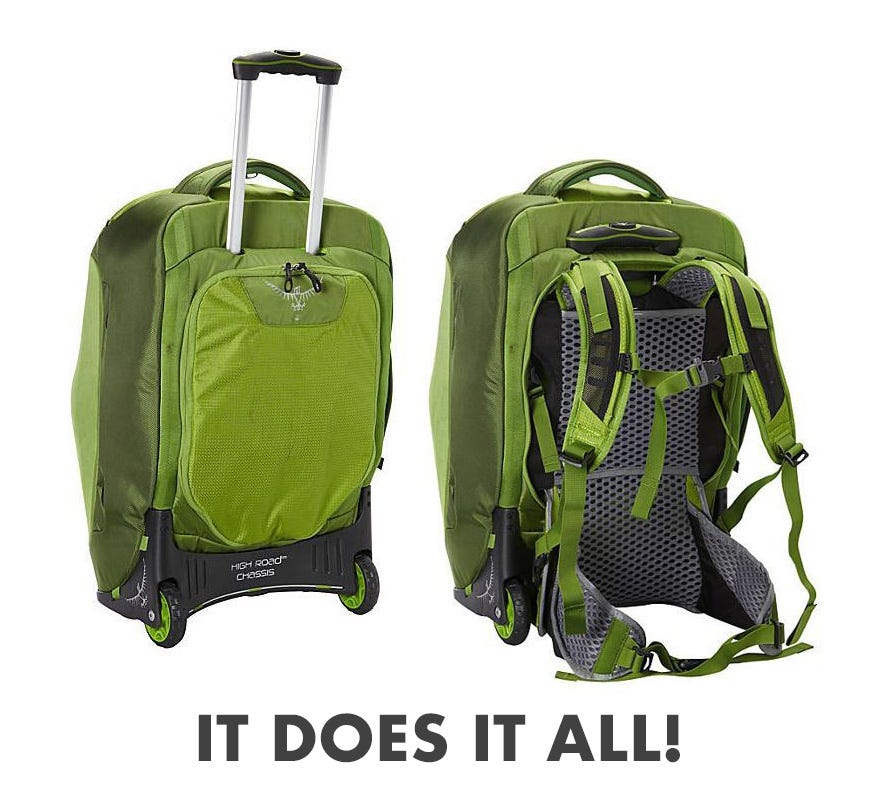 Backpack. Check.
Rollers. Check.
Green? Check.
It was like buying a TV/VCR combo expecting it to perform equally flawlessly in all of its features.
Since then, I've tried bag after bag after bag, focusing in on the qualities that work best for me.
These days, I'm strictly a backpack person with a few niceties, but in the end, it's really not about the bag. It's what you don't pack.
Pack less
I take a lot of pride in thinking about how to pack for each trip, and there is a bit of research that happens at the beginning of each journey, looking at the weather, deciding what camera gear to bring, should I bring swim shorts, etc.
Nothing drives me crazier than packing too much or carrying things that I never end up using. Or, packing too much, so there isn't enough room to bring something back home.
Forcing myself to pack everything into a 40-liter bag provides some limitations to what I can bring.
My 3:1 method
So instead of trying to figure out how many socks, pants, and shirts for every trip, I've boiled it down to a simple formula.
The basic premise for how I pack is this:
For every 3 days that you're traveling, you're allowed to pack one change of clothes. And you're rounding down.
Our 10 day trip to Japan is coming up, and so I'll only pack 3 changes of clothes.
That means 3 changes of underwear, 3 shirts, and 3 socks. Usually, one shirt will be a button up, and either a t-shirt or another button up depending on the weather.
The one exception to this rule is that I never pack more than 2 pairs of pants—which take up too much space—one of which I wear while traveling.
When finding a place to stay, just spend a bit of extra time making sure they have laundry or bring your own sink detergent and clothesline.
How you should pack
I'm not an expert in this area, but if you're not rolling your clothes or using cubes, you're doing it wrong.
At least that's what one flight attendant say.
What I'm looking forward to
The bag that I use right now is the GORUCK GR2. It's a 40L backpack with minimal branding, and a bombproof laptop bag. GORUCK was founded by a former Special Forces soldier, and they build these bags to be indestructible. If they don't, their lifetime guarantee covers anything that happens to it. This applies to anything you purchase through their site.
I find that using a backpack allows me to travel more easily, limits my packing to one bag, and keeps me hands-free.
But I wouldn't be honest if I said that I wasn't always looking out for what's next.
Peak Design just announced a Kickstarter for their next bag, which is a 45-liter backpack with many more accessibility options. I'm a huge fan of their design so I might be selling the GR2 if I end up liking this better.
Goto items that I pack for every trip
1 backpack (3 to 30 day trips, excluding kids)

AirPods are my new favorite gadget in the past 18 months. They charge quickly (4x using their case), are extremely small, and are wireless. Side benefit, you look like a total schmuck while wearing them in public, so there's that.

Apple Watch for fitness and general weather tracking

Laptop (I just can't leave home without it)

Camera (preferably fixed focal length)

Klean Kanteen water bottle

Kindle

Evernote/Notion/Tripit apps for our schedule (made ahead of time with links)
Resources & discounts:
Looking forward to reading:
A question for you
When you're thinking about taking a trip, how do you usually plan for it?
We'll be leaving the country next weekend, but I still plan to send a letter over the next couple of weeks, hopefully not missing a beat.
Have a great week!
---
If you're new to this newsletter, this is Plan Your Next. It's a conversation about being ready for what's next. Well, because there is always a next. I'm Nate, designer, and conductor of this group.
If you have something to share or add, please hit reply and expect a response!