Discover more from Plan Your Next
We all have the next thing. Maybe it's a product you're building, a new skill you're acquiring, a goal to land a new job, or a trip you're going to take. Every Sunday I tell stories to inspire forward momentum.
Over 3,000 subscribers
From Chuck Taylor's to New Balance shoes and why my feet are a genetic stain on my self conscious
Plan Your Next #135
👋 Good morning from Los Angeles! I'm Nate Kadlac, and this is #135 of Plan Your Next. A Sunday newsletter that connects design, creativity, and how you prepare for your next thing.
---
💡 What's new?
🎨 Today is the last day to enroll in Approachable Design 7! This is a foundational design workshop to help you make better design decisions. If you enroll today, I'll include Slide Decks with Style, a revamped 15-part video course to help you create more personalized slide decks using Figma. $150 value. Enroll now ya dummy!
📣 I was recently interviewed over at Subkit about building Approachable Design. (I dig the font choice)
📈 The polls are in from last week! Thanks to everyone who submitted feedback, and your gifts hopefully have arrived by now via snail mail. 37% said "Inspired" was how they felt when reading Plan Your Next. Crazy. There were many other newsletters to check out, but two that came up repeatedly were
and
Dense Discovery
.
From Chuck Taylor's to New Balance shoes and why my feet are a genetic stain on my self conscious
I sprinted across the indoor soccer field and collected a pass from my friend just 20 feet from the goal.
Still running at full tilt, I launched my right foot into the ball to crush it into the net, but somehow I caught a chunk of turf at the same time and collapsed instantly, grabbing my right ankle.
Afterward, the doctor held the x-ray of torn ligaments in his right hand and calmly said, "It would have been better if you had broken your ankle."
Since that moment, I've continued to abuse my feet. Years of basketball and ankle sprains have left me with knobby toes, a bunion or two, a hammertoe, and some weird thing called Morton's toe. Although that particular trait named after Morton is genetic, and there's nothing I could do could make that better or worse.
And so every day, with the same frequency of a healthy snacking habit, I stare down at my feet and shake my head in disgust.
I've made a lot of poor decisions without truly understanding the repercussions. There was one summer when I referred to myself as Bare Foot Nate after reading Born to Run and obsessing over zero-drop shoes while shaking my head at those who wore foot coffins.
Probably not the smartest thing to do when you're born with arches so non-existent that a dollar bill would get stuck.
Another dimwitted thing to do was wear Chuck Taylor's for over a decade with zero arch support. But damn, they look good.
The moment I traded in my Chuck Taylor's for New Balance shoes was when I both failed at life and became an adult.
•••
The Chuck Taylor All-Stars are now over 100 years old. When something is 100 years old, there's bound to be plenty of great advertising to look back on. What Chuck Taylor's are not are "Limousines for your feet."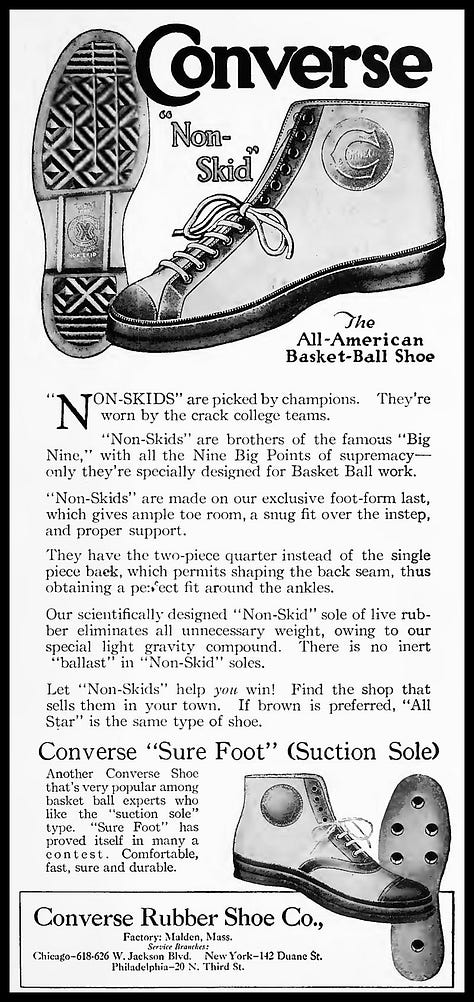 The original Chucks were released in the early 1920's, with its innovative feature being the loose canvas material deemed flexible and blister resistant.
When I think of flexible, loose canvas, I think about the time I rolled my ankle twice in 20 minutes in the front yard of a Maple Tree-lined apartment building in Minneapolis.
The Chuck Taylor shoe was designed for playing basketball, and by the 1960s, 90% of college and professional basketball players wore them.
When I think of playing basketball and Chuck Taylor's, I think of the pickup basketball game where I came down with a rebound, rolling my ankle between a mess of bodies that resembled a Picasso-inspired cubist painting.
The doctor who looked at this x-ray gave me the same advice as the first one. This time, I decided to have preemptive surgery that stretched a few ligaments back over the top of my ankle and stapled them into the bone.
By the 1970s, Converse eventually lost its hold on the basketball market. But In the 80s and early 90s, the Chuck Taylor shoe became associated with people like Andy Warhol, The Ramones, Kurt Cobain, and later, Nate Kadlac.
My love of the shoe is about its classic design, not about its comfort. They're a statement of who you aspire to be. In my case, design and art were always deeply connected to me. Chuck Taylor's represented an alternate life path. Being self-taught and a college dropout, they permitted me to embrace that wandering path.
The design is clever. It's simple, rubber-toed half-moons shape is like the rounded hood of a VW Beetle. A bit unordinary, the toe is like a visual diary of where you have been. Grass stains on a pair of Chucks tell me you're the kind of animal that never takes them off, even in a park.
There's something I appreciate in well-designed objects that stand the test of time. Wayfarers, a Porsche 911, Rolex watches, cast iron pans, Levi jeans, a Dual turntable, fountain pens, or a #2 pencil.
They represent everything a New Balance shoe is not.
•••
The first time I ordered a pair of New Balance shoes, my life felt like a free stock photo of a man at a crossroads, contemplating which direction to turn. Choosing New Balance at this intersection represented only the wrong answer.
I was living in San Francisco, which happens to be the worst place in the world to be living with feet issues. Hills in every direction.
I had just come from a podiatrist after feeling extreme soreness in my achilles tendon after walking from Mission Street toward Twin Peaks, a long stretch of city walking that gradually inclines the entire stretch.
The doc said, "If you want to stop having these issues, you gotta stop wearing these," while staring at my Chuck's in the corner of the room.
New Balance is the antithesis of Converse. It was founded in 1906 by a man inspired by how chickens walk. He even kept a chicken foot on his office desk, modeling the shoes off how a chicken balances with three prongs.
He thought this shoe represented a new type of balance for the modern man. So, he called this shoe, New Balance.
There's no easy way to describe the design of the New Balance shoe. It has an almost geriatric aesthetic: large soles, a bulky foot coffin presence, and a wide toe box.
In other words, they're made perfectly for my feet.
While the color combinations of most New Balance shoes continue to defy color theory, they make enough variations that I can find something that doesn't blind my vision.
And I'll never unsee the maroon and navy blue colorways that must be designed for movie theaters or laser tag. Or the all-matte black versions that look like they were carved from a rubber block.
I'll miss my Chuck's, but after years without spraining my ankle, I think I've finally grown up.
---
⚡️ Two creative hits for you to check out
next
👨‍💻 Stutz: Wow, this looks good
"Take action, no matter how frightened you are. If you can teach somebody that, they can change their whole life."
👨‍💻 15 Tips for making better YouTube videos
Honestly, I would love to start up my YouTube channel again. The videos I made over a year are just filled with memories. And the first tip makes a lot of sense, because we tend to focus on ourselves when creating things. I'm now curious if this is similar to why we see credits at the ends of movies, instead of at the beginning like we used to.
---
👋 See you next Sunday
My calendar is always open to chat about your next adventure, crazy idea, or if you're feeling creatively stuck.
My goal is to help more people give a damn about what they're creating next, through my writing, teaching, and design. If you want to support my journey, the best ways are to make better design decisions more easily, communicate stories with better slide decks, or discover your visual style in my live workshops.
Or, if you want to sponsor this newsletter, sign up here.
Have a great week,
p.s. Words are just words, but if these words made you feel something, would you let me know by tapping on the heart below?