Discover more from Plan Your Next
We all have the next thing. Maybe it's a product you're building, a new skill you're acquiring, a goal to land a new job, or a trip you're going to take. Every Sunday I tell stories to inspire forward momentum.
Over 2,000 subscribers
Embrace your cray
Plan Your Next Letter No. 20
Hello, my voracious readers with exceedingly great taste!
A few weeks ago, minutes before a road trip to Joshua Tree, our car engine wouldn't turn over. Of course, the single thing alerting us to something wrong was the blinking "CHECK ENGINE" light. Dammit. At that moment, I realized how vague this light can be as a form of design feedback, so I wrote about how to give better creative feedback.
---
This little newsletter has grown almost 50% in the past month, and I've gotten several new questions about the tiny section purposefully buried at the end of the last newsletter. It's not meant to be hidden, but rather delicately positioned just out of reach for those who aren't interested.
"Nate, what do you talk about in this creative call?"
Maybe it's a good time for a refresher? And, the theme of this newsletter.
Sam Altman—former president of Y Combinator; the world's largest startup accelerator—speaks about the fragility of fresh ideas:
The best ideas are fragile; most people don't even start talking about them at all because they sound silly. Perhaps most of all, you want to be around people who don't make you feel stupid for mentioning a bad idea, and who certainly never feel stupid for doing so themselves.
Thinking about what's next for yourself isn't easy. Taking the next step is even more difficult. What's even more debilitating? Talking publicly about bizarre ideas. Especially if you get that cockeyed, "you're cray" look from someone.
I want to embrace the cray.
It's a way for you to chat with someone (me!) about what you're working on, minus the stink eye. Promise. And, of course, I wouldn't be doing these calls if I didn't also get something out of it. I get to chat and bounce my ideas off you. If it only costs $15 for a book to change your life, then Plan Your Next conversations are the freemium version of that.
And when ideas collide, they can take on a different shape, giving us a new perspective.
In the early 1900s, a note-taking method called Zettlekasten was popularized by Niklas Luhmann, a German sociologist. He's known to have written 90,000 note cards, publishing over 70 books and 400 articles. His secret to this insane productivity? He created a 'slip box.' Simply, it's a box filled with notecards. Each notecard included a handwritten idea, an index number, and the reference which he was inspired by.
By stacking notecards with related concepts next to each other, he was able to have an unexpected collision of ideas when he referenced them days, months, or years later.
These calls are my live, conversational version of Zettlekasten. My ideas colliding with your ideas. I feel much more comfortable in groups of 3 or less, so this is my jam.
If you have an idea or are feeling stuck, book some time. If the ones on my calendar are too limiting, then hit me up and we can work something out. I'm looking at you, Melbourne, Australia.
(I promoted this far too heavily, but, fuck it.)
---
"Another day, another book."
Which is what my wife said after I got my last Amazon package. I don't read a lot of fiction and so I asked Twitter for some good recs. I received a lot of great replies, which I consolidated into an Amazon list.
In the meantime, I'll be picking up The Exit West, and House of Leaves.
Your
next
domain name

I came across Ungrabbed after talking with a friend of mine who lives in Bangkok. We were riffing on ideas around how businesses see a Return on Design. What's fun about premature ideas that might live online, is thinking of domain names. It's the nerd's version of brainstorming new band names. It's absolutely the least important part of the whole process, but it's the most fun.
Ungrabbed sends you interesting domain names every day, that are available to purchase. The price points are all across the board, but they're pretty good.
How many domains are you squatting on right now?
---
Your
next
window view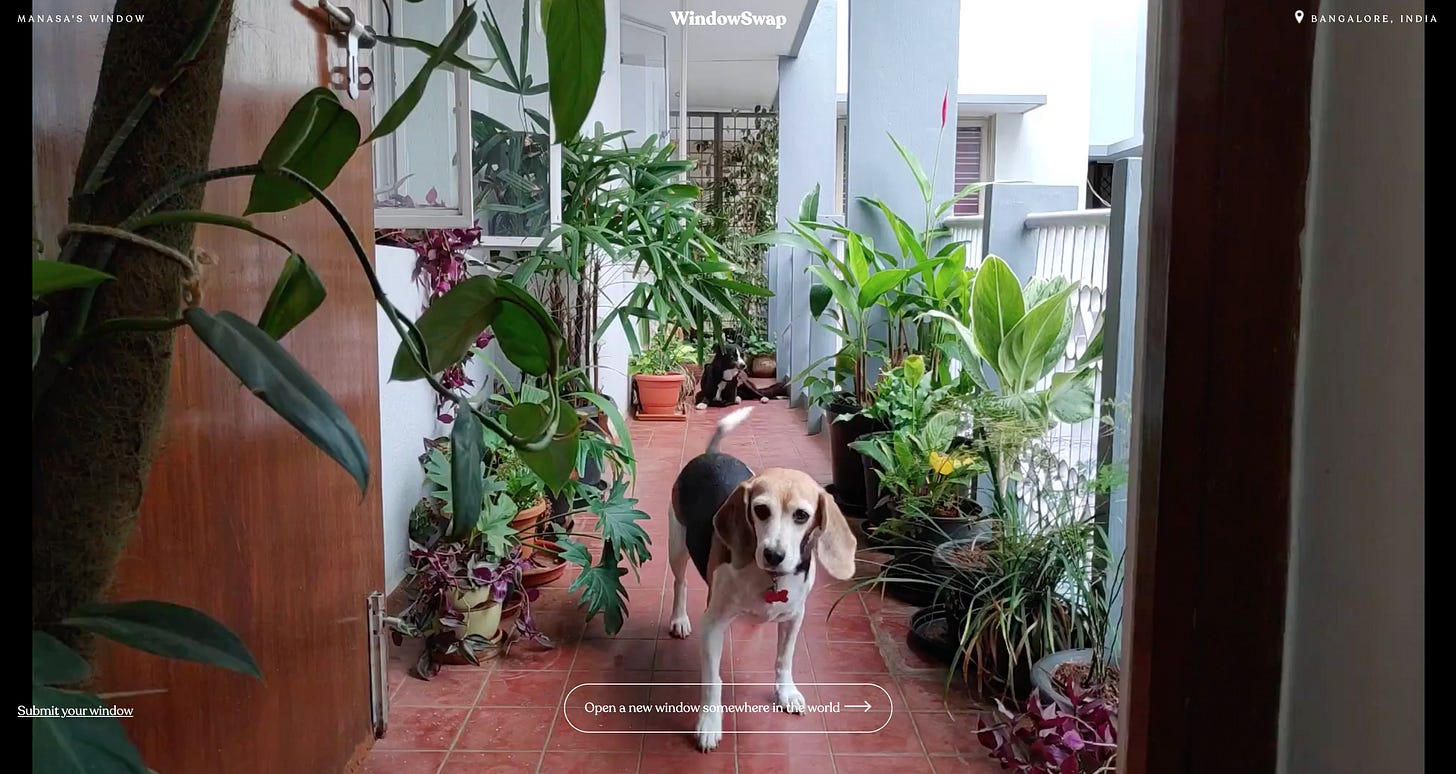 Last week I wrote about our chaotic environments. This is my incredibly fun solution to that. We're all stuck inside looking at our own damn environment a little too closely. WindowSwap lets you trade window views with someone else in the world. It's the PG version of Chat Roulette. Upload your own 10min video or hang out in Bangalore, India, like I'm doing.
---
I want to call out the new people who have subscribed to my corner of the internet. I'm happy to have you here!
Have a great week and I'll see you next Sunday!