Discover more from Plan Your Next
We all have the next thing. Maybe it's a product you're building, a new skill you're acquiring, a goal to land a new job, or a trip you're going to take. Every Sunday I tell stories to inspire forward momentum.
Over 2,000 subscribers
Welcome to the group, Matthew, Basti, Geremy, Tina, Aaron, and Debbie. I'm Nate Kadlac, inexperienced pilot of this Plan Your Next gang. Every Sunday, I aim to share ideas and inspiration to help maintain momentum throughout the week. 
Happy Sunday!
We've blown (more like a gentle breeze) past the 100 subscriber mark, and it means a lot that you're here on this journey with me. This letter is packed. We have Cam Houser showering us with knowledge on collaboration, and in the end, I've got a small giveaway of invites to a new tool.
---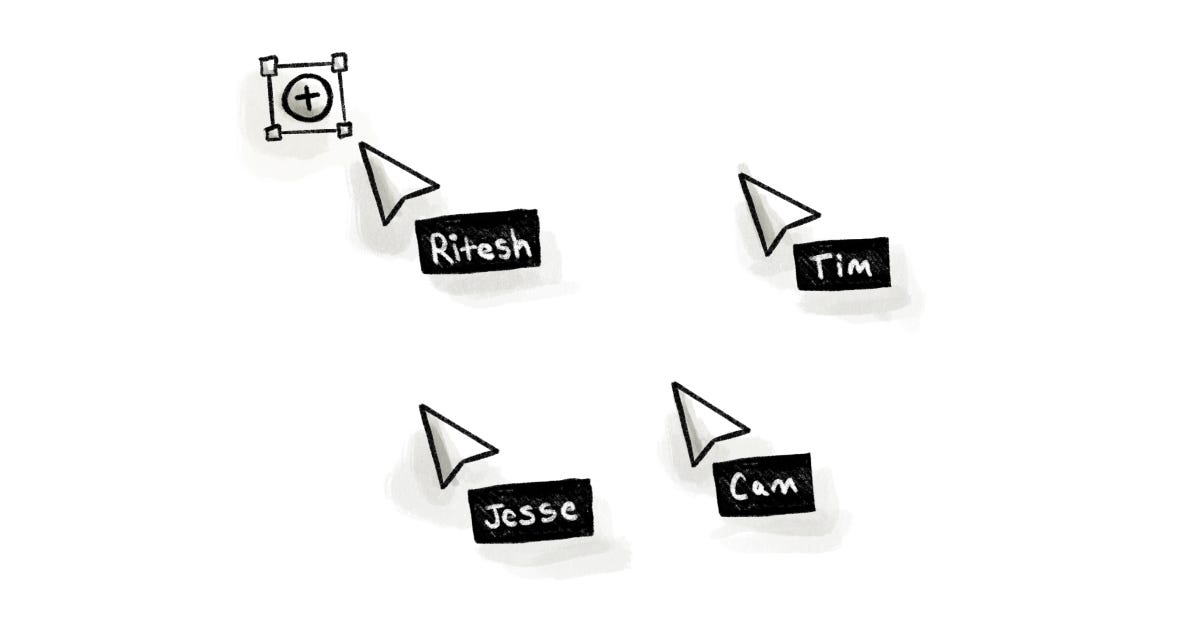 A few years ago, I started to use a design tool called Figma. I was in San Francisco at the time when it started to gain traction, and it promised that you could design in the browser. With multiple people, and without files. What sounded like a gimmick at first, has completely revolutionized how I think about online collaboration.
I just hit publish on How Figma changed online collaboration for design.
Let's get started!
---
💡Your
next
great idea won't come from brainstorming in groups
There's plenty of studies around how collaboration works, and this hit home to me. Ethan makes two points.
Don't start brainstorming with a group of people.

Small groups can combine ideas to improve them.
People want to believe that groups are more effective because they enjoy group brainstorming much more than individual brainstorming.
▶️ Your
next
group collaboration: Guest appearance
If brainstorming isn't as effective in group situations, are there ways to still work with large groups utilizing technology?
I've asked Cam Houser to chime in here. He's an entrepreneur and founder of Actionworks in Austin, TX who specializes in Zoom group facilitation. He recommends the 1-2-3 model.
Solo brainstorming: Write down as many ideas as possible

Breakout rooms: Small groups of 2-3 for everyone to share their ideas to get quick feedback.

Large group share: Allow those who feel comfortable to share their idea
I highly recommend reading Cam's weekly newsletter, where he writes a lot about producing DIY videos at Learn from Rulebreakers.
🇮🇹 The
next
collaborative artist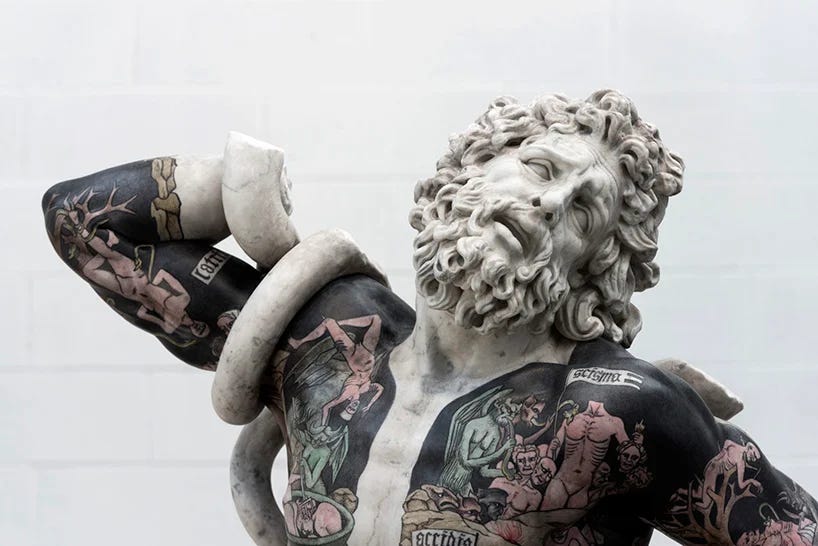 I can't get enough of Italian artist Fabio Viale. He's a marble sculptor who provocatively plays off historical and iconic pieces, interpreting them through his own eccentric tastes. The collaboration between classicism and contemporary art is personal and immediately striking.
The ink that he uses is not only for aesthetic purposes, but it infiltrates in the marble, in a similar way as it does to our skin.
I think we can all admit that this style wasn't done through groupthink.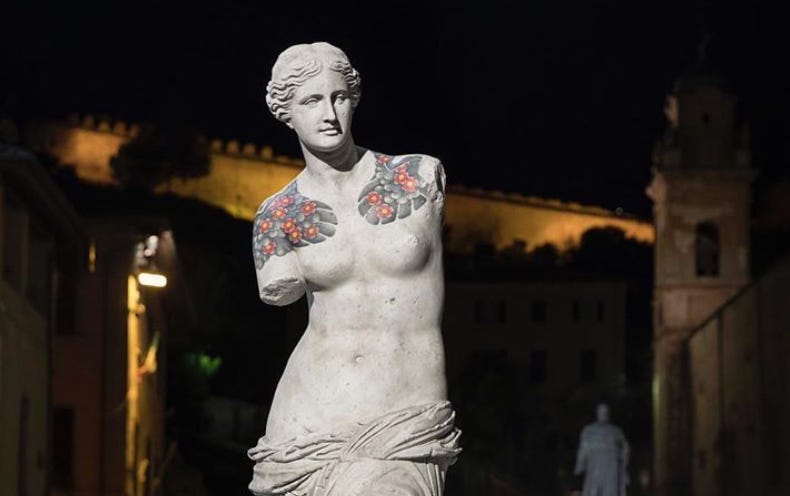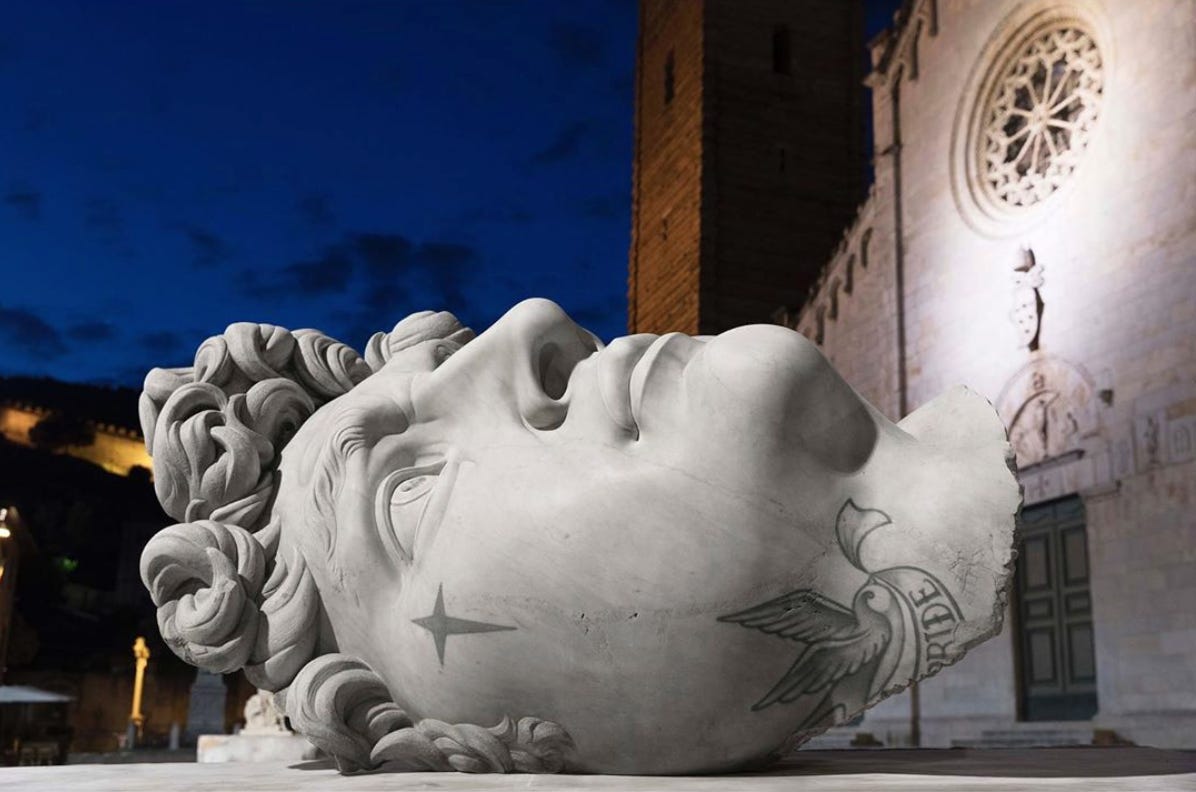 One last thing…
I've been playing with a new capture tool called My Mind. I haven't fully embraced it as I have devoted most of my note-taking responsibilities to Roam, but from what I've seen, it's pretty useful for inspiration when you need it.
My Mind is a privacy centered tool that lets you capture anything you find online, and automagically uses AI to add useful tags. Images, notes, articles, etc. Their manifesto is here. If you're curious, I've got 5 invites. The first five who want them, get them.
As always, if you have something to share or add, please hit reply and expect a response!
As always, my calendar is always open to chat about your crazy ideas.
See you next Sunday!